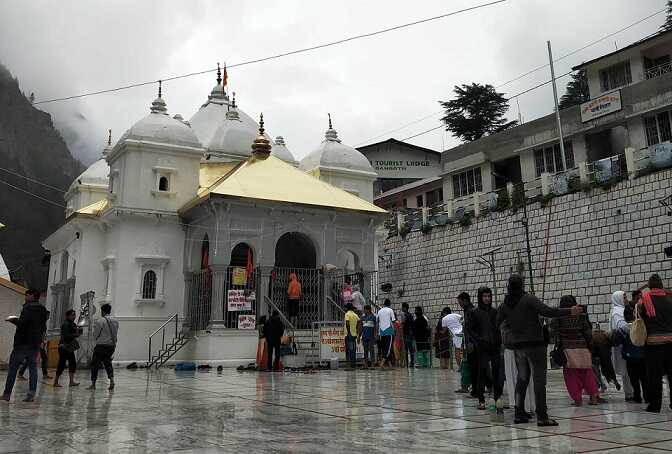 Gangotri temperature in July remains not that cold but the weather in Gangotri remains cloudy. The Monsoon in Gangotri brings heavy rainfall and occasional landslides which makes it not an ideal time to visit the town.
July and August are the rainiest months of the year due to the monsoon. So be careful when you visit the hilly areas in the monsoon season. You can experience lots of trouble on hilly road routes on monsoon days.
Gangotri is situated in a hilly area so in monsoon season heavy rain becomes the cause of massive landslides of roads and hills. so be really careful when you visit Uttarakhand in monsoon season.
Here we have shared a detailed analysis of Gangotri temperature in July. The analysis includes weather conditions like average, minimum, and maximum temperature in Gangotri.
Gangotri Temperature in July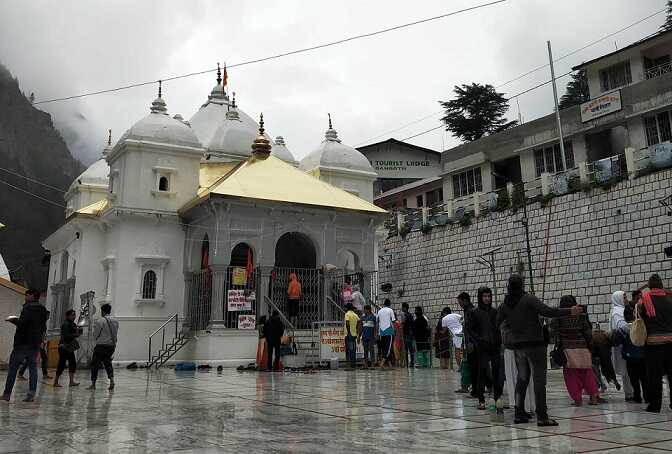 July month is the most cloudy month of the Year. In the month of July, The weather is not suitable to visit Gangotri Temple. The roads start to get damaged due to landslides.
The Monsoon in Gangotri brings heavy rainfall which makes it not an ideal time to visit the town. The roads and treks are slippery and cause lots of natural disasters due to rainfall.
Avg. Temperature is around 20°C
Min. Temperature is around 10°C
Max. Temperature is around 30°C
The Average Precipitation/Rainfall is 240 mm in July.
Gangotri Temperature today
The temperature in Gangotri right now and for the next 7 Days Weather Forecast.
Gangotri Temperature in Monsoon
In the month of July, The weather is cloudy. The monsoon in Gangotri starts in July and ends somewhere in Mid- September.
The temperature in July fluctuates too much in the monsoon season due to heavy rain and sudden sunshine. On rainy nights it becomes very cold and in day time it feels hot. so be prepared to experience the dual weather in a single day.
Gangotri Temple Opening Date
Gangotri Closed Season – After the next day of Diwali around mid-Nov to Dec, Jan, Feb, March, Mid April
Gangotri Open Season – On the day of "Akshay Tritiya" around April, May, June, July, Aug, Sep, Oct, mid-Nov.
Monsoon in Gangotri Temple in July
July is the month when the monsoon entered Uttarakhand. so in July, it starts raining and the condition of weather becomes cloudy and rainy. so if you are planning to start your journey in July it can be the wrong decision for you.
In recent years some other nearby places to Gangotri temple-like Gori Kund, Bhagirath Shila, Kedarganga Sangam, Suryakund, Brahmkund emerge as famous winter destinations.
Gangotri Weather Report for the Year 2022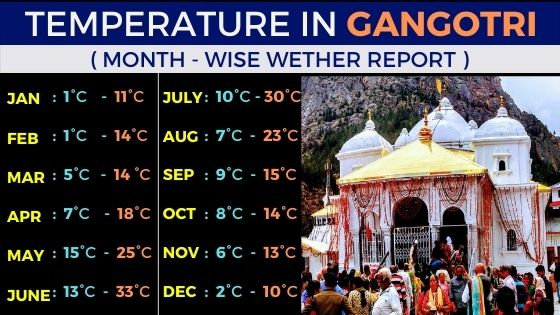 Gangotri Temperature in Detail (Monthly-wise)
Gangotri Temperature Report for the Year 2022 – Weather Forecast