Panch Kedar is part of Lord Shiva's body that appeared at five places in Kedarnath Town. It is said that the Pandavas built temples at each of these 5 places. Panch Kedar Yatra 2023. Temple names are Kedarnath, Tungnath, Rudranath, Madhyamaheswar, and Kalpeswara. It takes 14 days to visit all the five shrines of lord shiva. There is a spherical trek which is the only way to visit all Panch Kedar temples. And for most of the part, you have to walk from temple to temple.
The best way to visit Panch Kedar is a bus service that leaves Gaurikund near Kedar Nath. The Timing of this bus, is every morning at 5 am and stops at every point for panch Kedar temples.
Panch Kedar Yatra 2023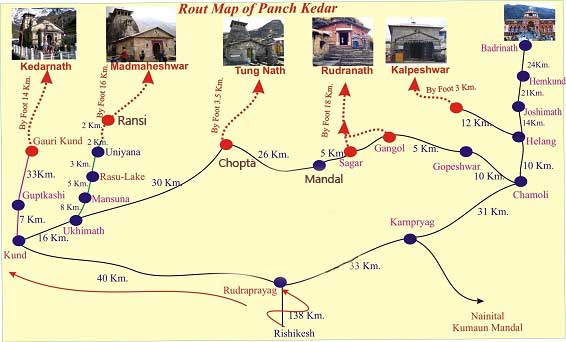 Panch Kedar Yatra starts from Kedarnath Temple. And to reach Kedarnath Dham, first of all, you have to reach Gaurikund via Kund. You can see as shown in the above image of the Panch Kedar Temples Route Map. One more option of helicopter service is there from Phata to Kedarnath. The second destination is Madhyamaheshwar, third is Tungnath, fourth is Rudranath, and the last fifth is Kalpeshwar Temple.
1. Kedarnath Temple: First Panch Kedar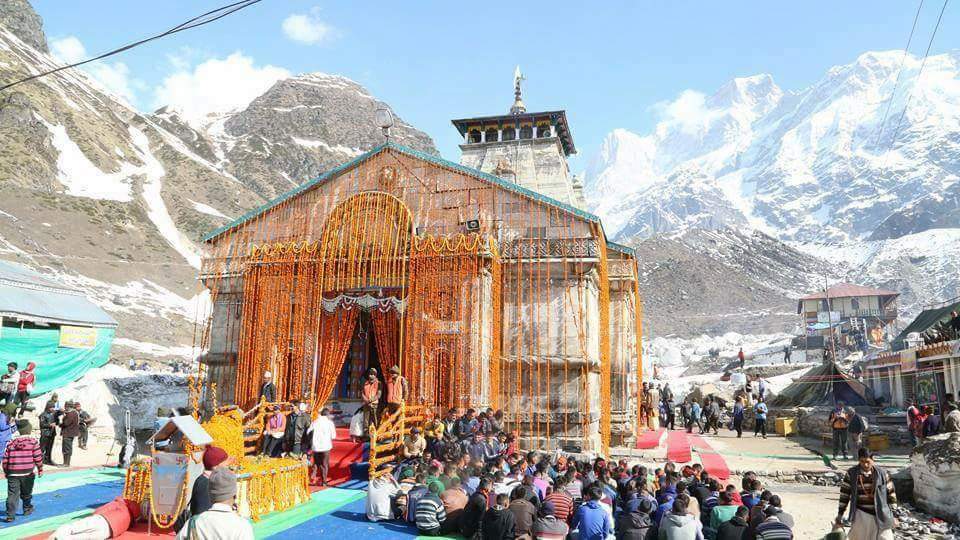 Kedarnath is a holy Hindu town located in the Rudraprayag district of Uttarakhand. It is one of the Chota Char Dhams located in the Northern Himalayas. The height of Kedarnath is 3584 meters above sea level. And Kedarnath Dham is Near the head of the Mandakini River. The Kedarnath Temple lies on the lap of the Garhwal Himalayan ranges and is visited by thousands of tourists each year.
Travel Tips For Kedarnath
One can also find mules and porters for hire. Before hiring you can check the official price chart.
For safety reasons, do check the ID cards of porters and mule owners.
While traveling in monsoon, check with local authorities and tour guides about the weather conditions before you start the journey.
Photography is not allowed inside the temple due to religious reasons. And It would be wise to follow the rules set up by temple authorities.
Ukhimath or Okhimath is just a little away south of Guptkashi. It has a colorful temple and monastery, which has many small cells for meditation. And pooja for Kedarnath is done in Ukhimath only when snow in the hills rises cold in winter.
The doors of Kedar Dham are closed for 6 months in the winter season. For This Period, Shiva's worship is done in Ukhimath with all the rituals. Ukhimath has all the different forms of Lord Shiva. So if you are not able to visit Panch Kedar, then getting a darshan of all deities at Okhimath is equal to being blessed by all the forms of Lord Shiva.
This friary is also the seat of the immortal saint, such as Parashurama and Visvamitra, as well as Varahi and Chandika, the Tantrik goddesses.
In Okhimath there are many temples of Lord Shiva Goddess Parvati, Usha, Mandhata, and Aniruddha. It is believed that Usha-Aniruddha's marriage took place in Okhimath. Usha along with her father used to live here.
2. Madhyamaheshwar Temple: Second Panch Kedar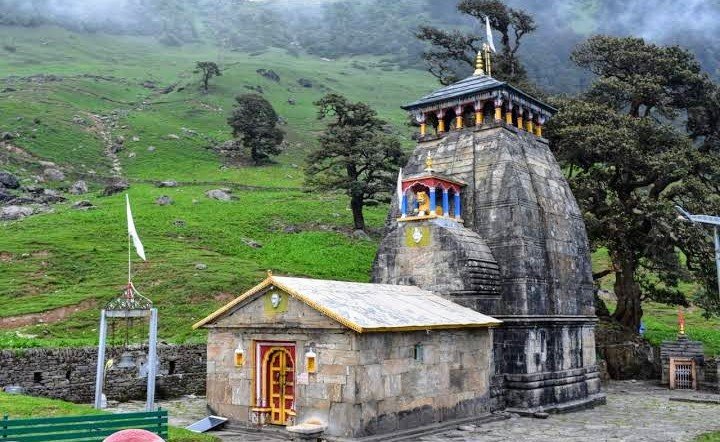 A local bus goes every day between Gopeswar and Guptkashi, and from there you can return to Guptkashi and then visit Okhimath and continue on to Mansuna village.
From Mansuna village it is a 24km trek to Madhyamaheswar (3,497m), which is 30km away from Guptakashi. One can stop at Ransi overnight, and then you can go to Gondar (3km) and climb 10km to Madhyamaheswar.
The temple here is a small stone temple that is dedicated to the middle (Madhya) part of the bull form of Lord Shiva.
Mysteriously snow-covered towards the Himalayas, on the right of which, are lush green alpine plains on the left side and dense forest act as its backdrop. The grazier huts, village houses, thousands of years old Madmaheshwar temple and heavenly views complete this town. The temple architecture is a classic north Indian style.
Travel Tips for Madhyamaheswar
The temple remains closed from November to April. So if you are planning to visit the temple during winter. Then don't forget to check the opening and closing dates.
If one has difficulty in trekking or carrying luggage, especially for old people who are not physically fit. Then you can also find mules and porters for hire, especially during peak season.
And the timing of the Madhyamaheshwar Temple is from 6 AM to 9 PM.
3. Tungnath Temple: Third Panch Kedar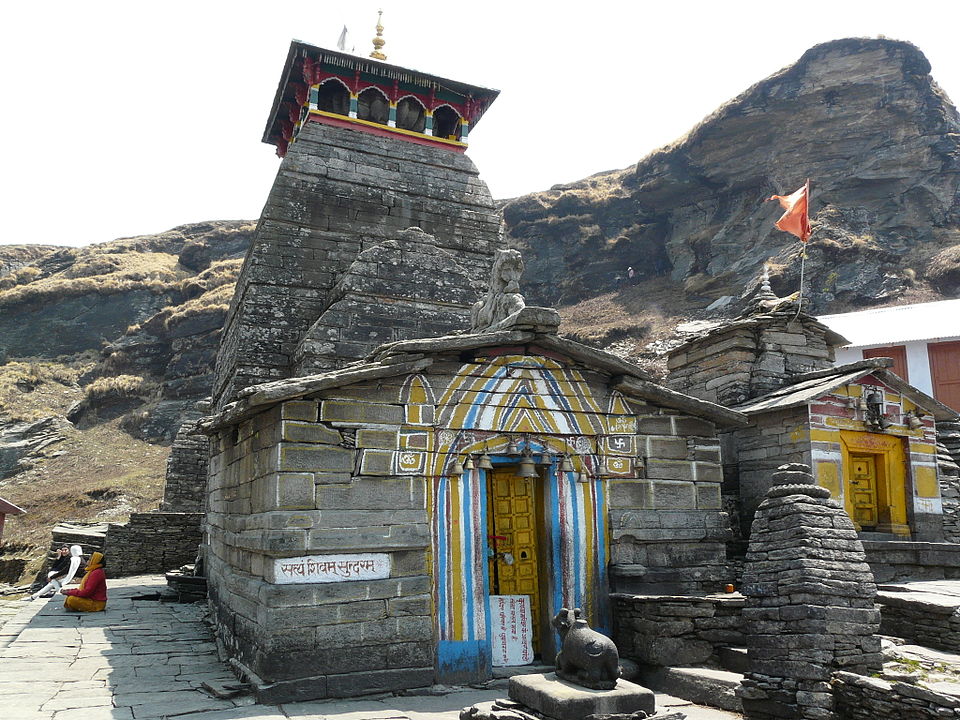 After Kedarnath, Tungnath is the most popular Temple in Panch Kedar. Tungnath is the highest temple in India in terms of altitude. The Hight of Tungnath Temple is about 3,680m or 12,065 ft. It is the world's highest Shiva Temple among all.
Beautiful mountains near Tungnath are Neelkanth, Kedarnath, and Nanda Devi. The Shiva temple here is on a stone-paved platform overlooking a cliff. There are five statues of faces of the Pandavas along with the deities of Vyasadeva and Kalabhairava in the temple. And there is also a small temple of Goddess Parvati.
You can get here by trekking from Chopta (7km, 4 hr), which is 37km from Ukhimath. The distance from Chopta to Tungnath is about 7km which can be covered in 4 hours of walking.
Tung Nath peacefully located on the Chandranath Parvat is the highest Shiva temple in the world and the highest Panch Kedar temple of Uttarakhand.
It is one of the third Kedar (Tritiya Kedar) in the pecking order of the Panch Kedar Yatra 2023. Tungnath is at an elevation of 3,680 meters above sea level. And it is considered to be more than 1,000 years old.
Travel Tips for Tungnath
For a physically fit person trekking to Tung Nath can be easy.
The trek route is comparatively easy but running, cycling and swimming can all help improve cardiovascular stamina.
One can also find mules and porters to hire, especially during the peak season.
Avoid traveling during the monsoon season. Because the high mountains of Uttarakhand are prone to landslides during the rain. After the Landslides, roads get blocked and you can get stuck there.
Being situated in a remote area, facilities like ATMs, and petrol pumps are not available at Tungnath, one has to go all the way to Gopeshwar or Ukhimath to get these facilities.
4. Rudranath Temple: Fourth Panch Kedar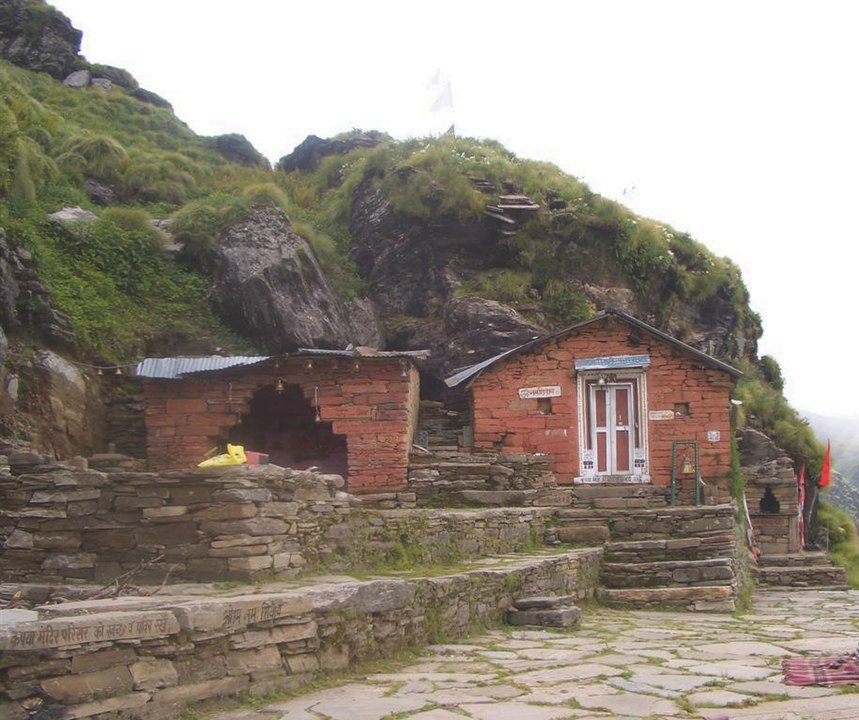 Next, you can go to Gopeswar by road and then to Sagar. From there it is a 24km trek to Rudranath, dedicated to the head of Lord Shiva.
There are mesmerizing views of the Trisul, Nandadevi, and Parbat peaks, and down below there are small lakes flowing with the enchantment of nature's beauty.
To reach Rudranath you can also walk from Kalpeswara. And Rudranath is the highly revered temple of Lord Shiva is peacefully situated in the Garhwal Himalayas.
It is the fourth temple to visit in the sacred Panch Kedar Yatra 2023. The angelic temple is snuggled inside the rhododendron forests and the alpine grasslands.
Travel Tips for Rudranath
The thrilling trek to Rudranath temple can either begin from Sagar village, Helang, or Urgam village.
Rudranath temple is the toughest one to reach in comparison to other temples of Panch Kedar.
The Himalayan ranges adding to the glory of Rudranath are Nanda Devi, Trishul, and Nanda Ghunti.
Rudranath Temple remains closed from November to April due to heavy snowfall just like Kedarnath Temple.
Every day the morning aarti at the sacred Rudranath Temple starts at 8 am in the morning and 6:30 pm in the evening.
The trail leading to Rudranath is challenging and risky but equally rewarding and adventurous.
It is sensible to check with local authorities, tour guides, or tour operators about the weather and condition of roads especially during monsoon before you actually start your trek or trip.
having a skilled and experienced guide with you would be helpful for you because the guide would know the route very well and trekkers won't lose their way.
5. Kalpeshwar Temple: Fifth Panch Kedar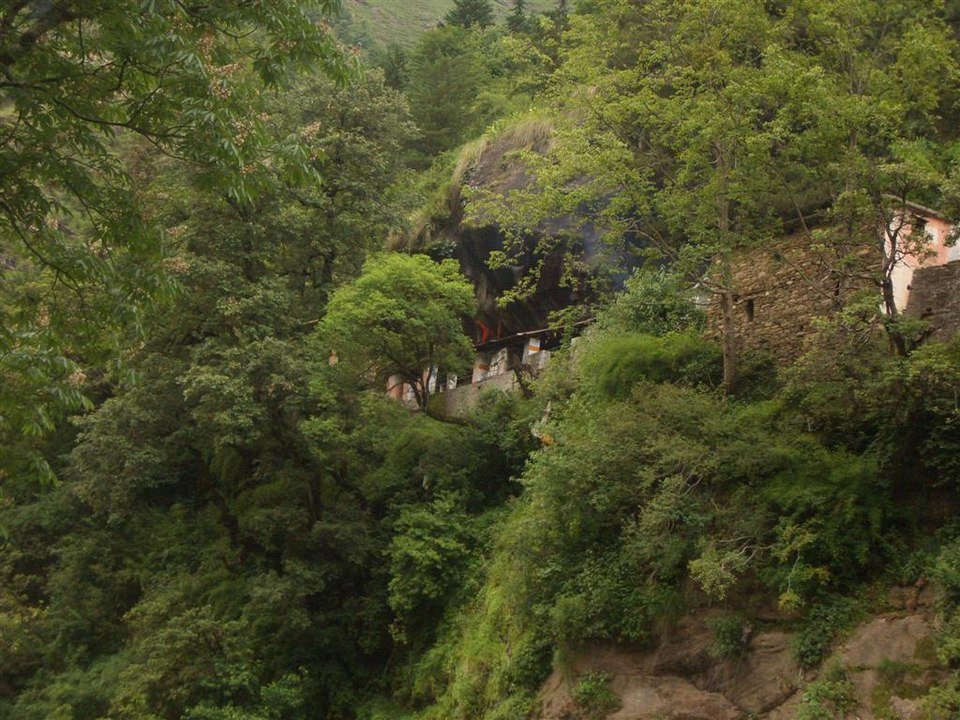 To reach Kalpeshwar temple you have to travel by bus to the village of Helang, 14km south of Joshimath, and from Helang you have to walk 9km to the village of Urgam, which has basic accommodation and food. From there it is a 1.5km walk to Kalpeswara Temple. Kalpeshwar is dedicated to the matted hair (Jata) of Lord Shiva. And it is made up of rock that is entered through a cave.
Kalpeshwar is the last and fifth Temple in the list of Panch Kedar Yatra 2023. And it is the only temple of the sacred Panch Kedar that remains open throughout the year.
Lord Shiva is worshipped in the form of matted hair at Kalpeshwar. And the trace to this sacred shrine goes through thick forests and lush green meadows. There is also an old Kalpavriksha tree here which is believed to be the wish-granting tree in Hindu mythology.
Travel Tips for Kalpeshwar
There is not much beauty in nature that can be seen.
Rudranath Temple can be reached from Kalpeshwar by trek. One should check the Trek route from Kalpeshwar to Rudranath.
Photography may be prohibited inside the temple and especially inside the sanctum. Please follow the guidelines outlined by temple authorities and respect the purity of the place.
According to Mahabharata, when Pandavas were searching for Lord Shiva, he turned himself into a bull to avoid detection. However, when Bheema tried to capture the bull, it disappeared. After that, reappeared in the form of body parts at five locations. As a result, these five locations are presently known as Panch Kedar.
The hump reappeared at Kedarnath, the arms appeared in Tungnath, the navel appeared in Madhyamaheshwar, the face showed up at Rudranath and the hair and head appeared in Kalpeshwar.
It is said that the Pandavs built temples at these five places for worshipping Lord Shiva. Many devotees of Lord Shiva take part in Panch Kedar Yatra at all the five Shiva temples mentioned above.