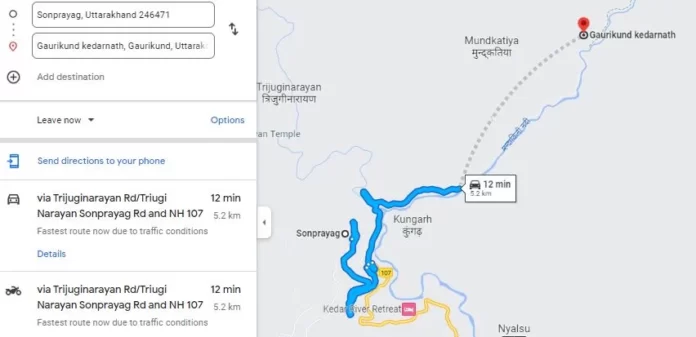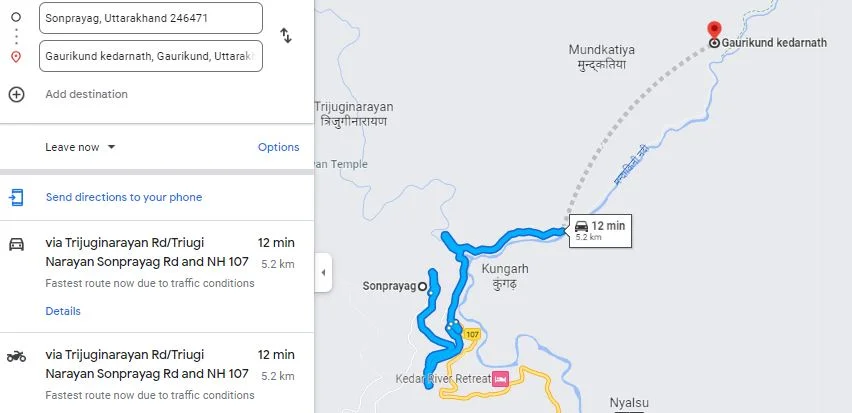 If you are traveling to Kedarnath then Sonprayag is your last motorable point. How to cover Sonprayag to Kedarnath distance is shared in this article.
Sonprayag to Kedarnath Distance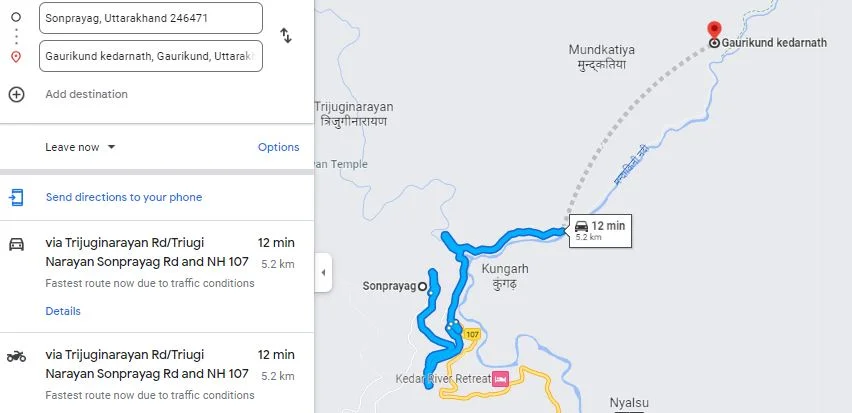 The distance between Sonprayag and Kedarnath temple is approximately 21 kilometers. In Sonprayag to Kedarnath route, 5 km is covered by road and the rest 16 kilometers is covered by climbing trek.It is a popular pilgrimage route, and most people travel from Gaurikund to Kedarnath on foot or by hiring a pony or helicopter service, as there is no motorable road beyond Gaurikund.
How to Reach Kedarnath from Sonprayag?
Sonprayag to Kedarnath distance is 21 Km. No private vehicle can go ahead from Sonprayag. All private cars, buses, and taxis stop at Sonprayag Parking Stand.Sonprayag to Gaurikund distance is 5 km. From Sonprayag you can travel to Gaurikund by Government authorized Jeep/Taxi.After that, you can start your trekking to the Kedarnath temple from Gaurikund and the distance of this trek is 16 Km.The trekking route is well-marked and offers scenic views of the Himalayan mountains. It usually takes several hours to complete the trek, depending on individual fitness levels and the weather conditions.
Sonprayag to Gaurikund
The distance from Sonprayag to Gaurikund is approximately 5 kilometers (3.1 miles) by road. Gaurikund is the starting point of the trek to the sacred shrine of Kedarnath in Uttarakhand, India.Many pilgrims begin their journey from Gaurikund and proceed on foot or by hiring ponies or palanquins to reach Kedarnath Temple, which is located further up in the mountains.Gaurikund is also known for its hot water springs, which are believed to have medicinal properties.
Gaurikund to Kedarnath Trek
The trek from Gaurikund to Kedarnath is a popular pilgrimage route in Uttarakhand, India. It is the main access route to reach the revered Kedarnath Temple. The trek is approximately 16 kilometers (10 miles) in distance and involves ascending steep mountain trails.The trek begins from Gaurikund, where the temple dedicated to Goddess Gauri (Parvati) is located. From there, pilgrims embark on a challenging journey that takes them through picturesque landscapes, dense forests, and along the banks of the Mandakini River.The trekking route is well-marked and maintained, with rest stops and facilities available at regular intervals. It usually takes about 6 to 8 hours for a fit individual to complete the trek, but the duration can vary based on factors such as physical fitness, weather conditions, and the pace of the trek.Many pilgrims choose to hire ponies or palanquins to ease the journey, while others prefer to trek on foot. It is advisable to carry sufficient water, snacks, and warm clothing, as the weather can be unpredictable in the mountainous region.Reaching Kedarnath, situated at an altitude of approximately 3,583 meters (11,755 feet), is considered a significant spiritual accomplishment for devotees. The temple is one of the Char Dhams (Four Abodes) in Hinduism and holds immense religious significance.
Kedarnath Distance from Major Cities
Note: This distance is directly from the Kedarnath Temple including the Kedarnath Trek which comes after Gaurikund in Rudraprayag.
Click on Any Route below and you will redirect to a detailed Guide on that Route.