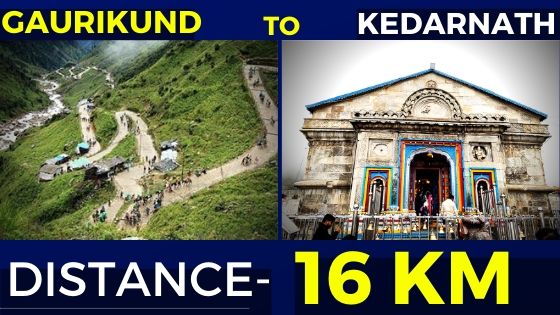 This article will guide you on how to reach Kedarnath from Gaurikund. If you want to visit Kedarnath Temple then Gaurikund is the last destination that is accessible from major destinations of Uttarakhand.
Gaurikund is a Hindu pilgrimage site and base camp for trek to Kedarnath Mandir. It is situated at an altitude of 6502 feet above mean sea level in the Garhwal Himalayas in the Rudraprayag district of Uttarakhand.
This new route to Kedarnath Temple is constructed by NIM team members. Various teams are working to maintain the best suitable path to Kedarnath.
The new route via Rambara and Linchauli is a major trek route to reach Kedarnath. Rambara has completely washed away in the 2013 flash floods. Now the only newly constructed bridge is to the landmark Rambara.
This Kedarnath trek is maintained by NIM – Nehru Institute of Mountaineering.
Gaurikund To Kedarnath Trek Distance
The roads towards Kedarnath Temple only stretch till Gauri Kund. After that, you have to take a 16 km trek towards the sacred shrine Kedarnath Mandir.
Kedarnath Trek is beautifully and naturally designed on the bank of the Mandakini River. There are some short shelter points in between the Kedarnath trek.
Total Length = 16 kilometers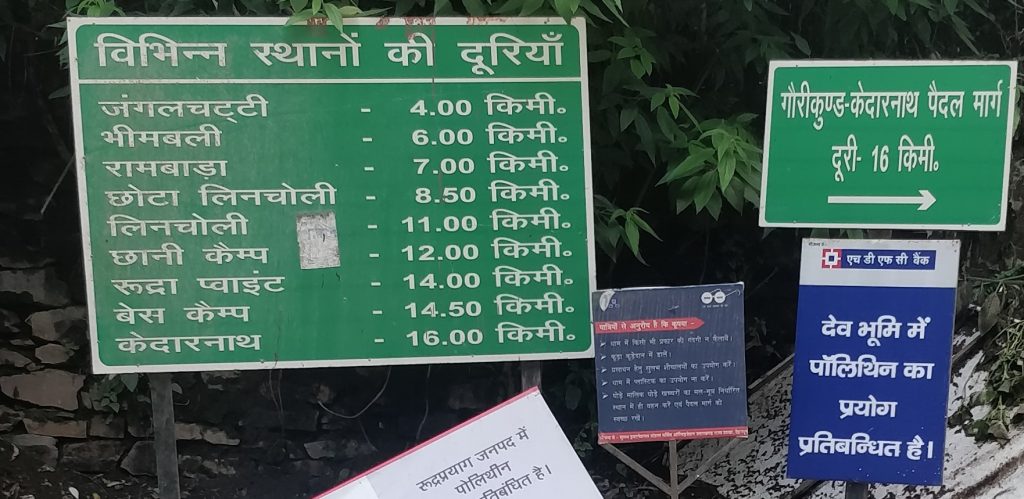 The distance between Gaurikund and Kedarnath is approximately 16 kilometers (9.9 miles) via the traditional trekking route. The trek takes around 6 to 8 hours, depending on your physical fitness level and the weather conditions.
4 km = Gaurikund To Jangle Chatti /Bhairon Chatti
3 km = Jangle/Bhairon Chatti To Bheembali
4 km = Bheembali To Linchauli
4 km = Linchauli To K. Base Camp
1 km = K. Base Camp To Kedarnath Temple 
Up-Down Timings
Last timing for Upcoming Visitors – 5 Pm (Evening)
Last timing for Downcoming Visitors – 6:30 PM (Evening)
To complete the Kedarnath trek, you have three options there.
by Walking
by Ponies
by Palkies
If you have a good budget, then you can also hire Helicopter Services during the peak season of the Char Dham Yatra. The hard journey to the great abode of Shiva is well remunerated with the spiritual atmosphere which is created by the peaceful sober and splendid beauty of the region.
The magnificent Kedarnath peak (6,940 meters) stands behind the temple with other peaks, forming a perfect setting for the holy land of the supreme deity (Mahadev).
The conical-shaped Shiva lingam (hump) in the Kedarnath temple is a unique feature and one of the 12 jyotirlingas of Lord Shiva.
Other Than this Palkis and Ponies Facilities are also available.
Gaurikund To Kedarnath Trek Route Map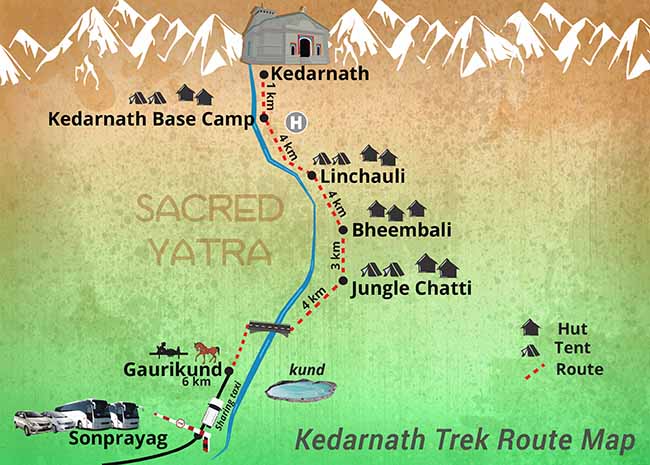 Kedarnath Trek (Paidal Marg) is divided into many resting sheds. En route Kedarnath from to Gaurikund, there are several facilities provided by the administration.
Medical and First aid facilities are available at Bhimbali, Lincholi, and Kedarnath. There is also a 10 bedded hospital with ECG with modern facilities at Kedarnath. Apart from Medical, Tea/Coffee shops, there are resting sheds also available on the route.
Gaurikund ➜ Jungle/Bhairon Chatti ➜ Bheembali ➜ Linchauli ➜ Kedarnath Base Camp ➜ Kedarnath Temple
New Route Checkpoints between Gaurikund to Kedarnath
There are mainly 10 Checkpoints in the route of the Kedarnath Trek. These checkpoints are shown below in the order they come during the 16km trekking.
Gaurikund (गौरीकुंड)
Jangal Chatti (जंगल चट्टी)
Bheembali (भीमबली)
Rambara (रामबाड़ा)
Chhota Lincholi (छोटी लिंचोली)
Lincholi (लिंचोली)
Chhani Camp (छानी कैंप)
Rudra Point (रूद्र पॉइंट)
Base Camp (बेस कैंप)
Kedarnath Temple (केदारनाथ मंदिर)
Palkis and Ponies Services in Kedarnath
Price Charges for both Palkis and Ponies depend upon the distance, nature of the trip (one way/round), uphill/downhill journey, same/next day return, and weight of the passenger.
Horses, ponies, and Palkies are available to climb up this steep path. Though the flash floods of 2013 desolated Kedarnath, work is being done to resuscitate it to its former glory. The trekking path to Kedarnath is a little different.
The Nehru Institute of Mountaineering has set up sheds at every few kilometers where the devotees can rest during this uphill trek. It is better to wake up early in the morning for the temple since it is closed between 3 PM to 5 PM.
While here, you may also trek 3 km ahead from the main temple to visit the beautiful lake, Chorabari Tal. Trekking 4 km ahead, you can see beautiful Himalayan peaks being reflected in the crystal clear waters of Vasuki Tal.
Kedarnath Distance from various Cities of India
Here we are sharing a detailed Route Map & Distance Guide on how to reach Kedarnath from major cities in India.
Click on Any Route below and you will redirect to a detailed Guide on that Route.
⦿ Delhi To Kedarnath (466 km)
⦿ Rishikesh To Kedarnath (227 km)
⦿ Haridwar To Kedarnath (252 km)
⦿ Dehradun To Kedarnath (266 km)
⦿ Mumbai To Kedarnath (1912 km)
⦿ Chandigarh To Kedarnath (524 km)
⦿ Jaipur To Kedarnath (758 km)
⦿ Lucknow To Kedarnath (730 km)
⦿ Ahmedabad To Kedarnath (1431 km)
⦿ Banglore To Kedarnath (2558 km)
⦿ Chennai To Kedarnath (2609 km)
⦿ Kolkata To Kedarnath (1699 km)
⦿ Pune To Kedarnath (1913 km)
⦿ Hyderabad To Kedarnath (1685 km)