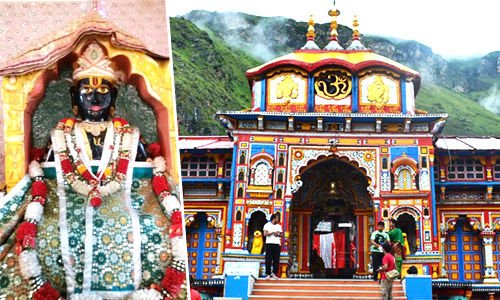 The delightful town of Badrinath is where divinity meets with the serenity of nature. Badrinath Temple is situated in the Chamoli district in Uttarakhand. This prominent abode of Lord Vishnu is one of the holiest of the holy shrines of Char Dham Yatra. Other than Badrinath, these sites include Dwarka, Puri, and Rameswaram.
Badrinath is located between Nar and Narayan peaks. This pure land of Vishnu also belongs to the Chota Char Dham Yatra in Uttarakhand. It begins with Yamunotri, Gangotri, and Kedarnath. And after that, Badrinath is the last and most famous stop in the pilgrimage tour of the Garhwal Himalayas.
Badrinath Temple in Char Dham Yatra 2023
Some major facts and information about Badrinath Temple.
Deity: Badrinath (Lord Vishnu)
District: Chamoli
State: Uttarakhand
Elevation / Height: 3,300m (10,800 ft)
Visitors / Year: More than 12 Lakh people visited Badrinath in 2019.
How to reach Badrinath Temple?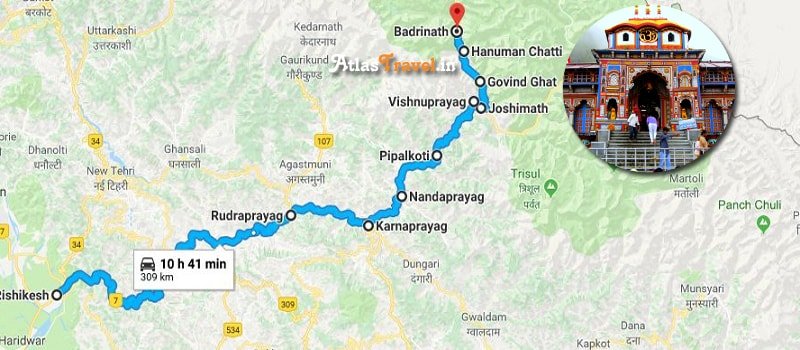 First of all, Badrinath Dham is easily approachable by motorable roads. And the Badrinath temple can be reached by walking along an easy trek. Furthermore, there is the village of Mana which is around 3 km from Badrinath. Mana is one of the last villages of India before the boundary of India ends. And then the boundary of Tibet begins.
The peak of Neelkanth mountain stands strong spreading its mighty aura for all pilgrims and travelers alike.
Badrinath is a land of multiple legends each one only adding to the glory of this place.
Along with these legends, the snowy mountain peaks, gracefully flowing Alaknanda River make the environment adventurous. And the beautiful landscapes create the perfect background to emerge a spiritual connection between God and his devotees.
Badrinath is Positioned at an altitude of 3300 meters from sea level. Other than this, Badrinath Temple is set right at the shore of the Alaknanda River.
Badrinath Temple History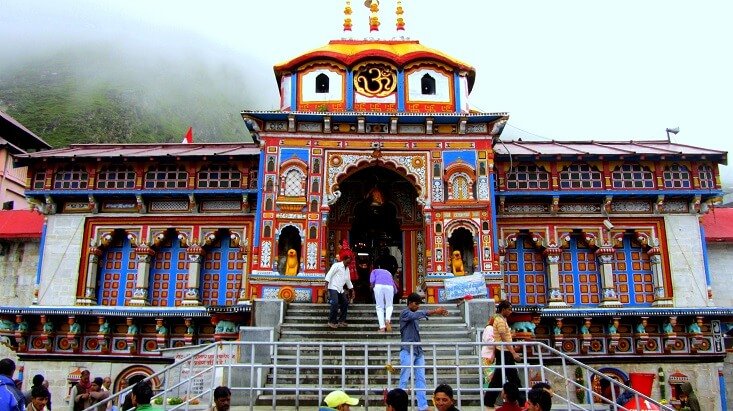 This shrine was established by Adi Guru Shankaracharya in the 8th century to give new life and energy to Hinduism. Therefore Badrinath is considered one of the most ancient temples after Kedarnath.
As per Hindu mythology, it was the first residence of Goddess Parvati and Lord Shiva. After that, Lord Vishnu made Badrinath his own abode. According to Padam Puran, Lord Vishnu carried out rigorous penance at this place for thousands of years.
The incarnation of Nar Narayana, Goddess Lakshmi (his wife) saved him from rain and sun to be transfigured in bushes of berries. Hence, Badri (Berry) made this region famous as Badri Vishal.
Vishnu is the Nath (lord) of Lakshmi, thus, this place became popular as Badrinath. Other than this, It is said that after the battle of Mahabharata, Pandavas, and Draupadi revered this place as the hill to heaven.
Distance of some kilometers from this shrine, a cave is located in mana village where sage Veda Vyasa wrote the great epic Mahabharata.