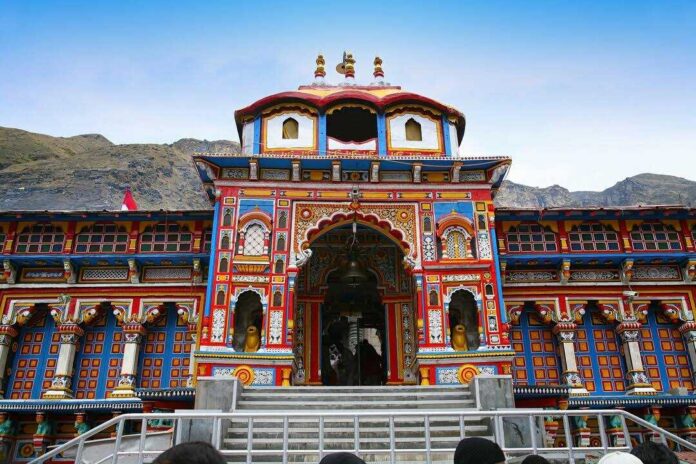 Badrinath or Badrinarayana Temple is a Hindu Temple dedicated to Lord Vishnu which is located in Garhwal hill tracts along the banks of the Maa Alaknanda River in Chamoli District in Uttarakhand, India. And today we are presenting you a gem of an article that consists of 27 facts about the Badrinath temple.
All these facts and information about Badrinath are gathered through deep research on renowned sources like literature, books, and ground report findings. So enjoy reading!
Badrinath is one of the most famous temples of Lord Vishnu. Every year millions of people from all around India visit Badrinath.
Badrinath is located 3,133 m (10,279 ft) above sea level. The Nar Parvat (Nar Hill) is located opposite the temple, while the Narayana Parvat (Narayan Hill) is located behind the Neelkanth peak.
Facts About Badrinath
1. Badrinath is one of India's Char Dham.
There are four pilgrimage sites in India, which are located in all four directions of India. Badrinath is one of these four pilgrimage sites which is situated in the northern direction of India.
Badrinath Temple is the only temple that is part of both the Char Dhams of India and the Chota Char Dhams of Uttarakhand.
Char Dham temples of India are

Badrinath

,

Dwarka

,

Puri

, and

Rameswaram

.
Chota Char Dham temples of Uttarakhand are

Badrinath

,

Kedarnath

,

Gangotri

, and

Yamunotri

.
Read More about Char Dham Yatra:
2. Record Of Most Pilgrims Visitors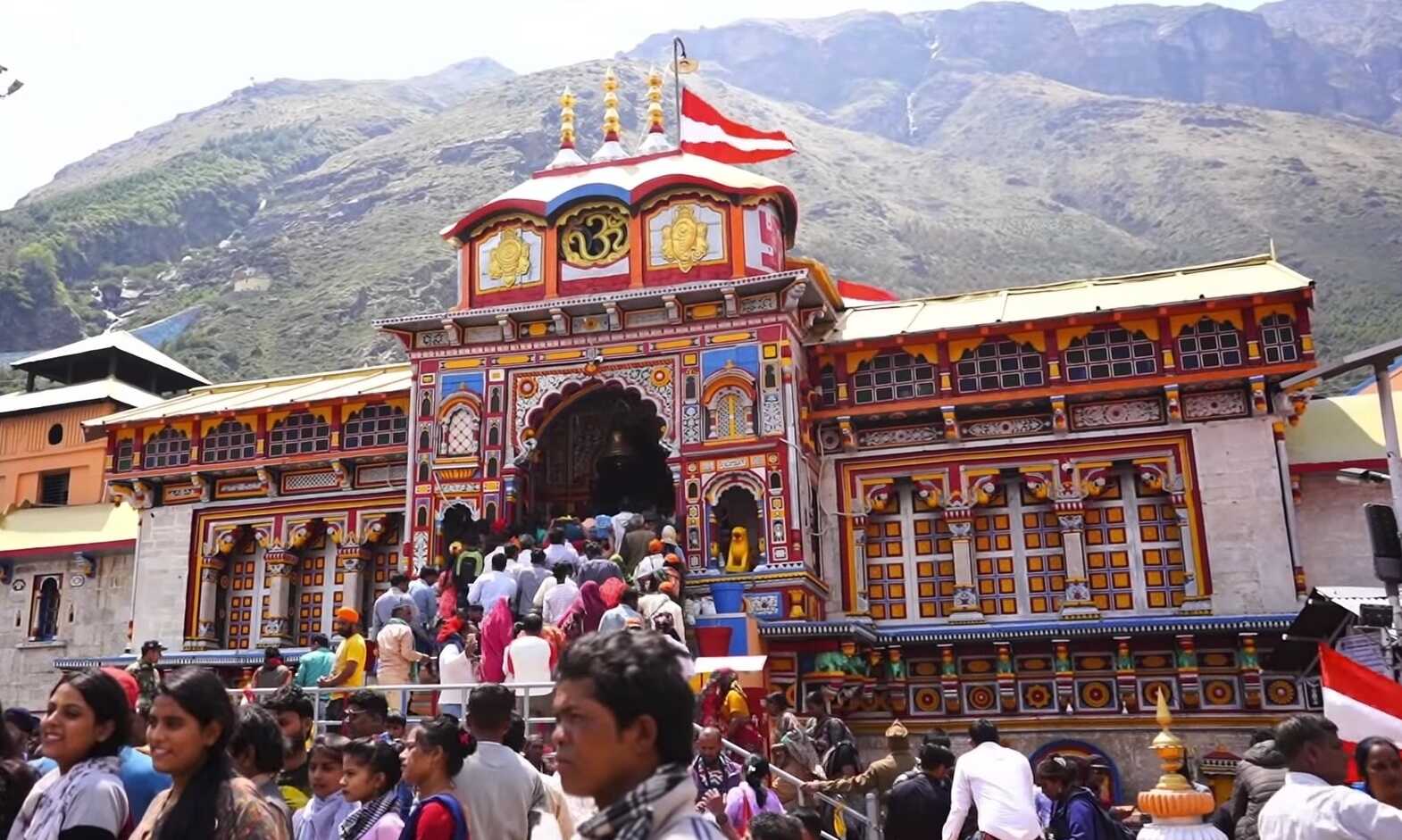 Badrinath is one of the most visited pilgrimage centers in India, having recorded 12,42,546 visits (2019). And these pilgrims visited the temple over the span of 6 months.
Considering the hilly area and pilgrimage site in the remote area of Uttarakhand, Badrinath is one of the most visited pilgrimage sites in India.
3. Situated in the Himalayan Region
Badrinath is the only temple in India's four pilgrimage sites which is situated in the Himalayan region. And also Badrinath is one of the highest temples of Lord Vishnu which is surrounded by snow and other mountains.
Badrinath is situated at a height of 3,133 m (10,279 ft) above sea level. It is close to the last Himalayan village of Indian "Mana" and shares the border with China.
4. Opens for 6 Months Only
One of the most important facts about Badrinath is that, Unlike the other 3 Char Dham Pilgrimages of India, Badrinath is the only temple that remains closed for 6 months in the winter season and opens for 6 months in the Summer season.
The reason for closing in the winter season is heavy snowfall in the Himalayan region which makes weather conditions extremely cold and also the whole area is covered by a thick layer of snow.
5. Legend about the Establishment of Badrinath
A story is prevalent in relation to the establishment of Badrinath, that once Lord Shankar was traveling to the Himalayas with Mother Parvati. They saw a little child crying in the middle of Badrinath Marg.
Mother Parvati stopped in pity and she lifted the crying child in her lap. That Child stopped crying and start smiling and then the child appeared in the four-armed form of Lord Vishnu.
After that Lord Vishnu requested Lord Shiva and Mother Parvati with urgency and said Lord, all this Kedarkhand is your holy Area, so Please give shelter to me also under this holy area.
As a result of the consent of Shiva-Parvati, this Badrikashram area became the biggest pilgrimage of Vaishnavism in this Shiva land.
6. Mention in Mahabharata facts about Badrinath
There is a mention of the visit to Badarikashram by the Pandavas in the Mahabharat Van Parva (134: 19-21).
The Pandavas saw here the "Badri" tree, whose stem was round, with smooth leaves, with dense shade, and the stream of honey used to flow in the divine fruits of this tree.
7. Deity of Lord Badrinath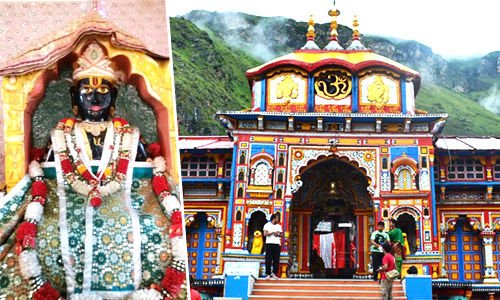 Lord Badrinath's Deity in the main Garvgraha, about three and a half feet in Shaligram rock, quadrangle, Padmasan as a form of penance.
He is wearing a golden crown with many gems and is adorned with a tilak studded with diamonds in the center of his forehead.
Char Dham Bhajan and Aarti
8. A Sweet Fact About Badrinath Sacred Offering (Prasad)
Van Tulsimala, raw gram, Gola, Sugar candy (Mishri), etc. are offered to Narayan in the form of a Sacred/Holy Offering (Prasad).
9. Other Gods worshiped in Badrinath Temple
The main Gods in the Garvgraha are revered in the order of Kubera, Garuda, Badrivishal, Uddhava, Narada, Narayan, and Nar.
10. Places to visit Near Badrinath
Shri Laxmi Temple, Ghantakarna Temple, Hanuman Temple, the Shankaracharya's seat, and the office of the temple committee are situated in the temple circumambulation (parikrama) path.
Other sacred places around Badrikashram (Badrinath) are Tapt-Kund, Aadikedar, Panch-Shilayen, Brahmkapal, Matamoorti, Bheempul, Vyas-Gufa, Charanpadukatirth, Satopanth, Wasudhara, etc are important sites nearby.
11. Legend of Badrinath and Budhisam
Rahul Sankrityan calls the statue of Badrinath as the statue of Buddha. Historian Dr. Shiv Prasad Naithani does not consider it logical to see Buddhism in the statue of Badrinath on the basis of many facts.
According to him, wherever there are practices of Buddhism in the Himalayan region in Uttarakhand, they are all medieval, not ancient. Many of these statues were attacked and snatched from the monasteries of Tibet.
12. A Golden Fact about Badrinath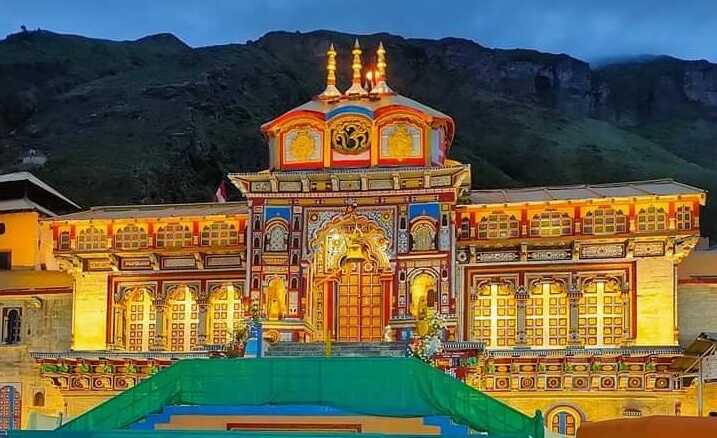 It is one of the rare facts about Badrinath that the gates of the temple's Garbhagriha, which earlier belonged to Silver, the gates were made of gold on 12 October 2005 by Mumbai's Diamond businessman Seth Motiram Vishandas Lakhi.
The Lakhi family offered the Golden Throne and Garvgraha (Garbhagriha), Golden Gates, to Lord Badrinath at Badrinarah Dham on 12 October.
Thanks to these donors and devotees of Lord Badrinath who added the golden throne and golden gates of Garbhagriha to the beauty of Badrinath.
Must Read Amazing Facts:
13. A Rare Fact About Priests of Badrinath
According to the arrangement of Swami Shankaracharya, Badrinath is worshiped by Brahmins of the "Namboodiri caste" of South India, who are called "Rawal".  
"Dandi Sanyasi Mahant" used to worship at Badrinath before Rawals.
After the death of the last Dandi Mahant "Ramakrishna Swami" in 1776, he had no successor, Therefore, the right of worship went out of the hands of the Dandi sannyasis and came into the hands of Rawals.
14. Fact about Badrinath Committee
Shri Badrinath Temple Committee was formed in February 1941. The chairman of this committee was nominated by the Government of Uttar Pradesh at that time and the members were nominated by the Uttar Pradesh Legislative Council, Vidhan Sabha, former Maharaj of Tehri, and District Panchayat Chamoli.
But at present, the Uttarakhand government does the work of nominating the Chairman and Members of this committee. 
Badrinath Temple is now managed by UCDDMB (Uttarakhand Char Dham Devasthanam Management Board).
Devsthanam Management Board is created by the Government of Uttarakhand that manages more than 50 temples in Uttarakhand.
15. Unquenchable Light (Divya-Jyoti)
Every year, in the event of the closure of the doors of Lord Badrinath, a huge lamp (Diya) is always lit inside the temple. This Diya is completely filled with oil when the doors are closed.
It is hard to believe but it is true that it remains ignited till the time the doors are opened.
16. An Inside Facts About Badrinath
The structure of the Badrinath temple is divided into three parts. Singh-dwar, Mandap, Garvagraha.
The deity of Lord Badrinath is in the main Garbhagriha, about three and a half feet in Shaligram rock, quadrangle, and Padmasan as a form of penance.
17. Mention in Sacred Books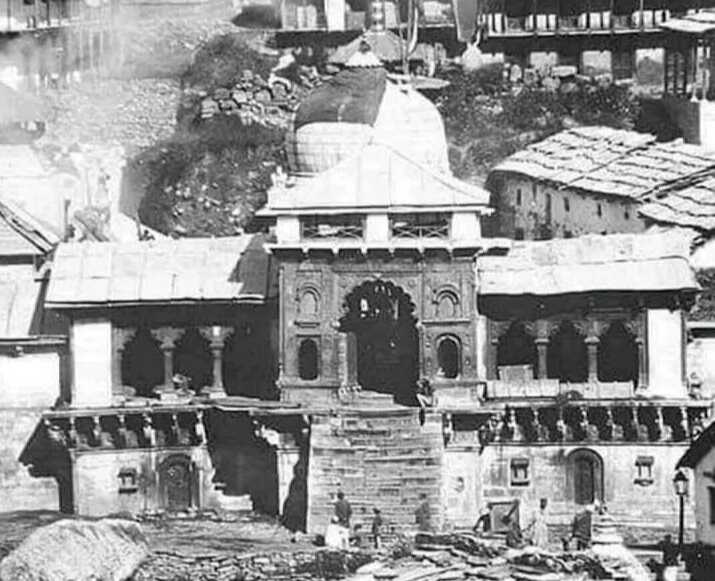 Badrinath temple is mentioned in various Hindus Sacred Books such as Bhagwat Puran, and Skandpuran.
The area around Badrinath Temple which we called Badrikashram is mentioned in Padma Puran as a Sacred and spiritual site.
History of Char Dham Temples
18. One in 108 Divya Desam
A Divya Desam is one of the 108 Vishnu temples that are mentioned in the works of the Alvars (saints). "Divya" means "divine" and "Desam" indicates "place of abode" (temple). Badrinath is one of these 108 Divya Desam.
Of the 108 Divya Desam, 105 are situated in India, one is situated in Nepal, and the last two are believed to be outside the Earthly realms.
19. Part of Panch-Badri Temples
There are 5 prominent temples of Lord Vishnu which are considered Panch Badri in Uttarakhand.
The names of these Panch Badri are Badrinath, Yogdhyan-Badri, Vridha-Badri, Adi-Badri, and Bhavishya-Badri.
Badrinath is the Biggest Vishnu temple of these 5 Panch-Badris. All these temples are situated in the Chamoli district of Uttarakhand.
Explore Badrinath…
20. Badrinath in British Rule (Facts about Badrinath)
When Garhwal was divided into two parts in the 20th century, the Badrinath temple came under British rule. However, the management committee of Badrinath temple remains Under the Tehri Maharaj (King).
21. Disaster Prone Area (Facts about Badrinath)
The Badrinath temple has undergone several major renovations due to its age and damage by an avalanche.
In the 17th century, the temple was renovated and expanded by the Kings of Garhwal.
After significant damage in the great 1803 Himalayan earthquake, it was largely rebuilt by the King of Jaipur.
22. Different names in Different Time Periods (Yuga)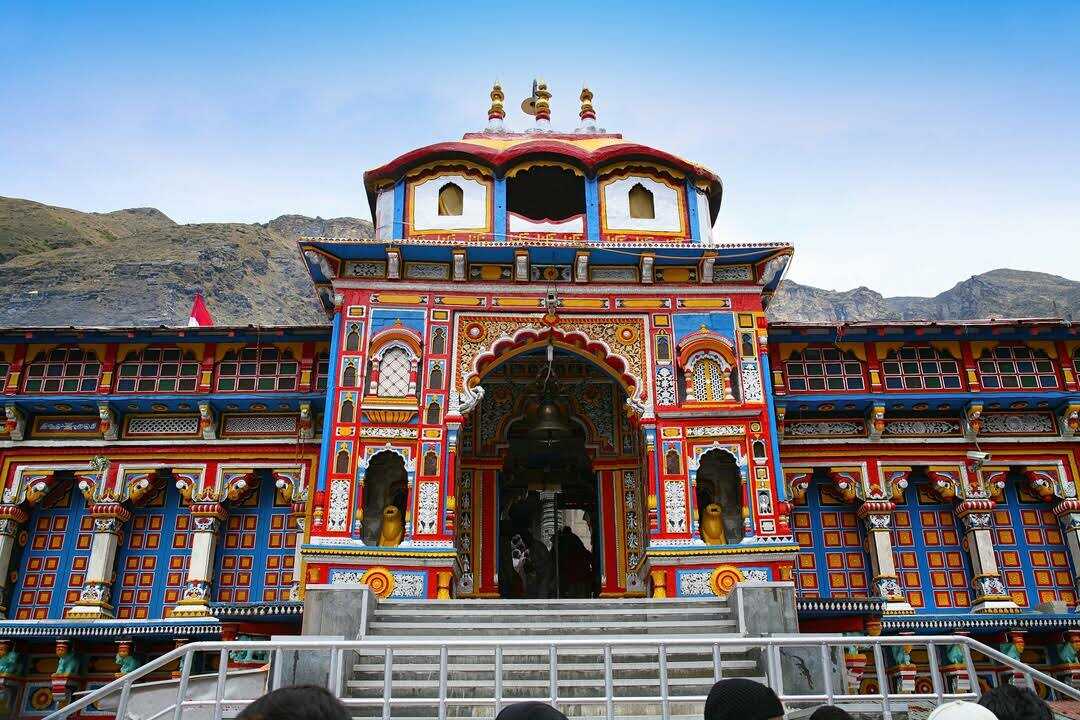 Badrinath has been called by different names in different periods of the Yuga.
The Ashram of Lord Narayan was called Muktiprada in Satya Yuga, Yogasiddha in Treta, Vishala in Dwapar, and Badrikashram or Badrinath or Badri-Vishal in Kali Yuga.
23. Markandeya Rishi Rock (facts about Badrinath)
The Penance and the place of actions of Markandeya Rishi were also Badrikashram (Badrinath).
The rock on which he used to sit is still known as Markandeya Shila.
24. Lord Ram Visit (facts about Badrinath)
Lord Ram also reached here at Badrinath (Badrikashram) to worship Lord Narayan (Lord Vishnu).
25. Pandavas Visit (facts about Badrinath)
In 134/19/21 of "Mahabharata Van Parva", there is a mention of the Pandavas' visit to Badrinath (Badarikashram).
26. Tulsidas Visit (facts about Badrinath)
Goswami Tulsidas went on a journey to Kailash-Mansarovar via Badrikashram (Badrinath) at the end of the sixteenth century.
27. Ved-Vyasa Cave (Gufa) (facts about Badrinath)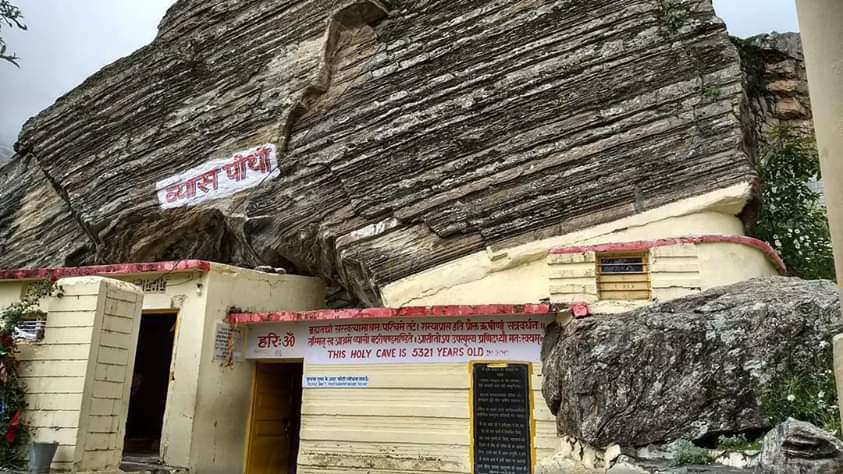 Lastly in the list of facts about Badrinath, the Veda Vyasa cave is located in the town of Badrinath. It is the place where Ved Vyasa divided the Vedic Samhitas into several sections and sorted each subject by separating the various mantras.
The cave of "

Ved Vyas Rishi

" is located in the town of Badrinath itself. This cave is more than 5000 years old.
This cave is built under a huge stone 200 meters above Mana Village.
Veda Vyas Ji lived in this cave for a long time and composed Asta-das Puranas like

Bharat Samhita

,

Mahabharata

,

Shrimad Bhagwat

, etc.

He also composed 18 (Eighteen) Puranas in this cave.
Complete Travel Guide: