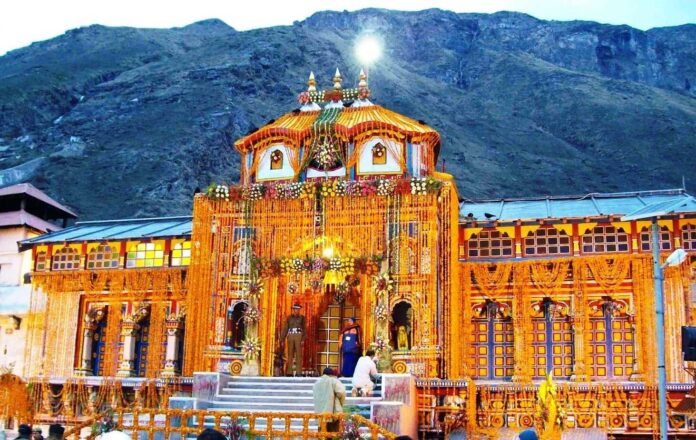 Badrinath Yatra 2023 is all about visiting Badrinath Temple which is dedicated to Lord Vishnu. Here we have shared Badrinath Yatra 2023 opening, and closing dates, the booking registration process, and Travel Guide for your Badrinath Trip.
The temple is also one of the four Char Dham and Chota Char Dham pilgrimage yantras in India. Badrinath finds its mention in the 108 Divya Desams devoted to Lord Vishnu in India. It is situated at the height of 3,300 meters (10,279 feet), the temple is surrounded by lofty snow-clad Himalayas, and is a paradise for nature lovers also.
In this article, we have compiled all the important information about Badrinath Yatra 2023. And we can say that this is your Online Travel Guide for your Badrinath Trip.
About Badrinath Yatra 2023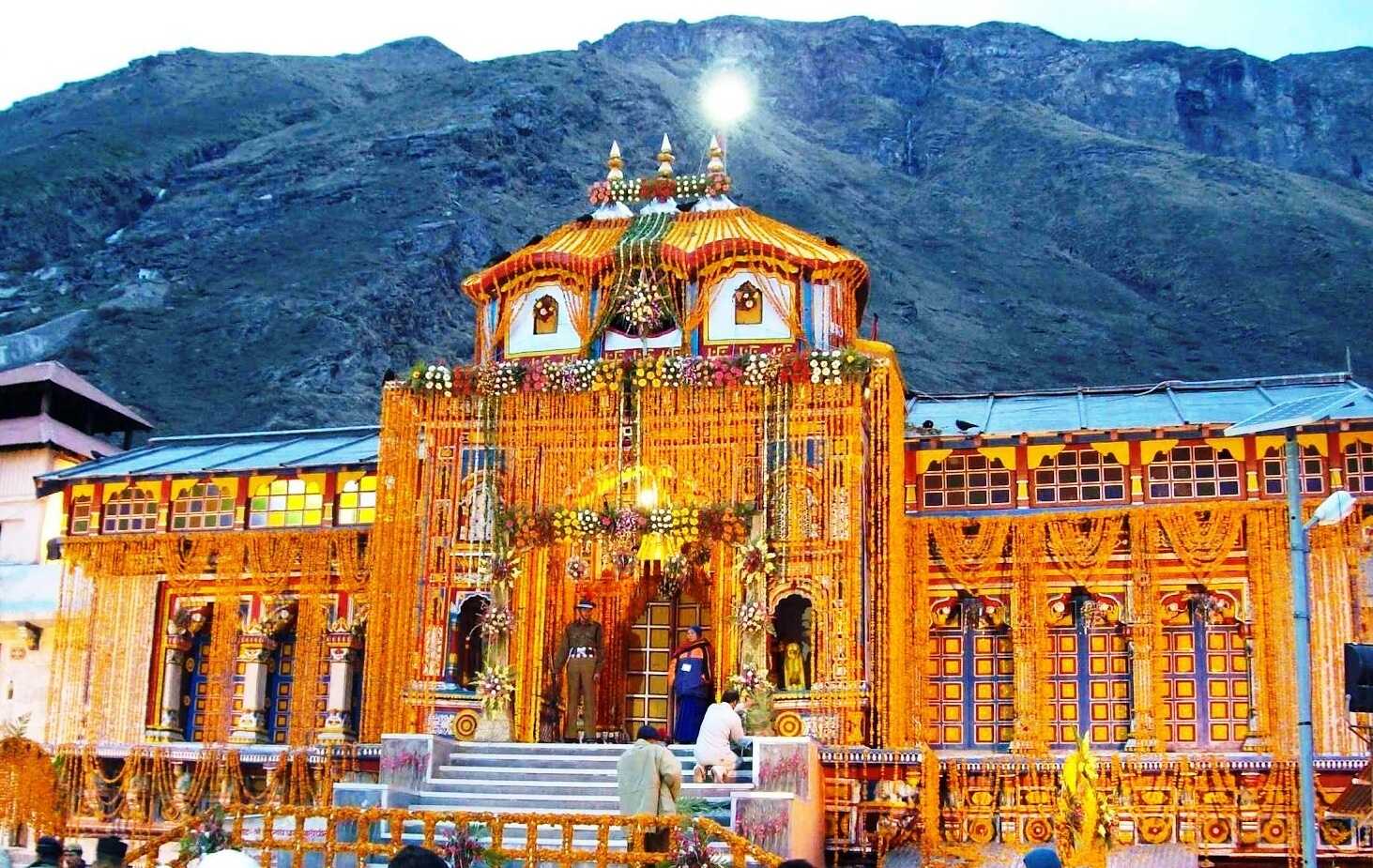 Deity: Badrinath, Badrikashram, Residence of Lord Vishnu
District: Chamoli
State: Uttarakhand (India)
Elevation / Height: 3,300m (10,279 feet)
Visitors / Year: 10 Lakh visitors
More than 7 Lakh people visited Badrinath in just the first 45 days of the Char Dham Yatra in 2019. Badrinath is One Of India's Char Dham Pilgrimage Sites, Which is situated in the North, Himalayan Region. the other three Pilgrimage sites are Dwarka, Puri, and Rameswaram.
Badrinath is also one of the significant temples of the sacred Chota Char Dham yatra. This Yatra Consist of four temples of Uttarakhand. These are Kedarnath, Badrinath, Gangotri, and Yamunotri.
Also Read:
Badrinath Temple Opening Date 2023
The opening date of the Badrinath temple is announced at the Basant Panchami festival which is celebrated in January and February. the announcement of the opening date is made by the royal court of Tehri Naresh, situated in Narendra Nagar.
The closing of Badrinath Temple is announced on the day of Vijaydashmi (Dusshera).
The opening and closing dates of the Badrinath Yatra 2023 are as follows:
| | |
| --- | --- |
| Opening Date | 27 April 2023 |
| Closing Date | November 2023 |
About Char Dham Yatra
History of Badrinath Temple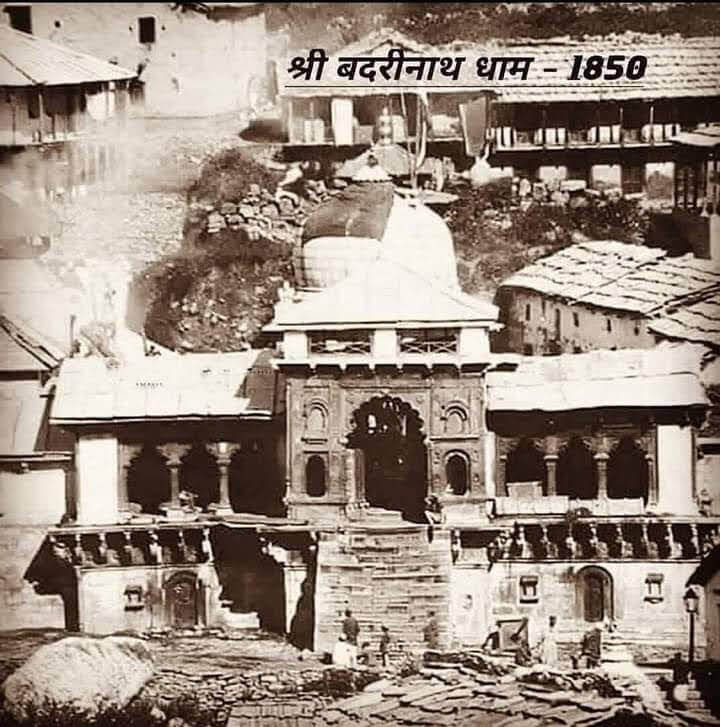 That Area of Shri Badri Nath (Badrikashram) recognized as Astam Baikuntha in the universe is the one that is presided over by Lord Vishnu himself. 
The Dham of Satyug is Badri Nath, Rameshwaram of Treta, Dwarka of Dwapar, and Jagganathpuri have been recognized in Kaliyuga.
This ashram (Badrikashram) of Lord Nar-Narayan has been an important center of Vedic culture since ancient times.
Due to its beautiful and rich surroundings, this Area of the middle Himalayas was called "Badarikashram" in ancient times. Badrinath has been called by different names in different periods of the universe.
History of Char Dham Temples
How To Reach Badrinath Temple?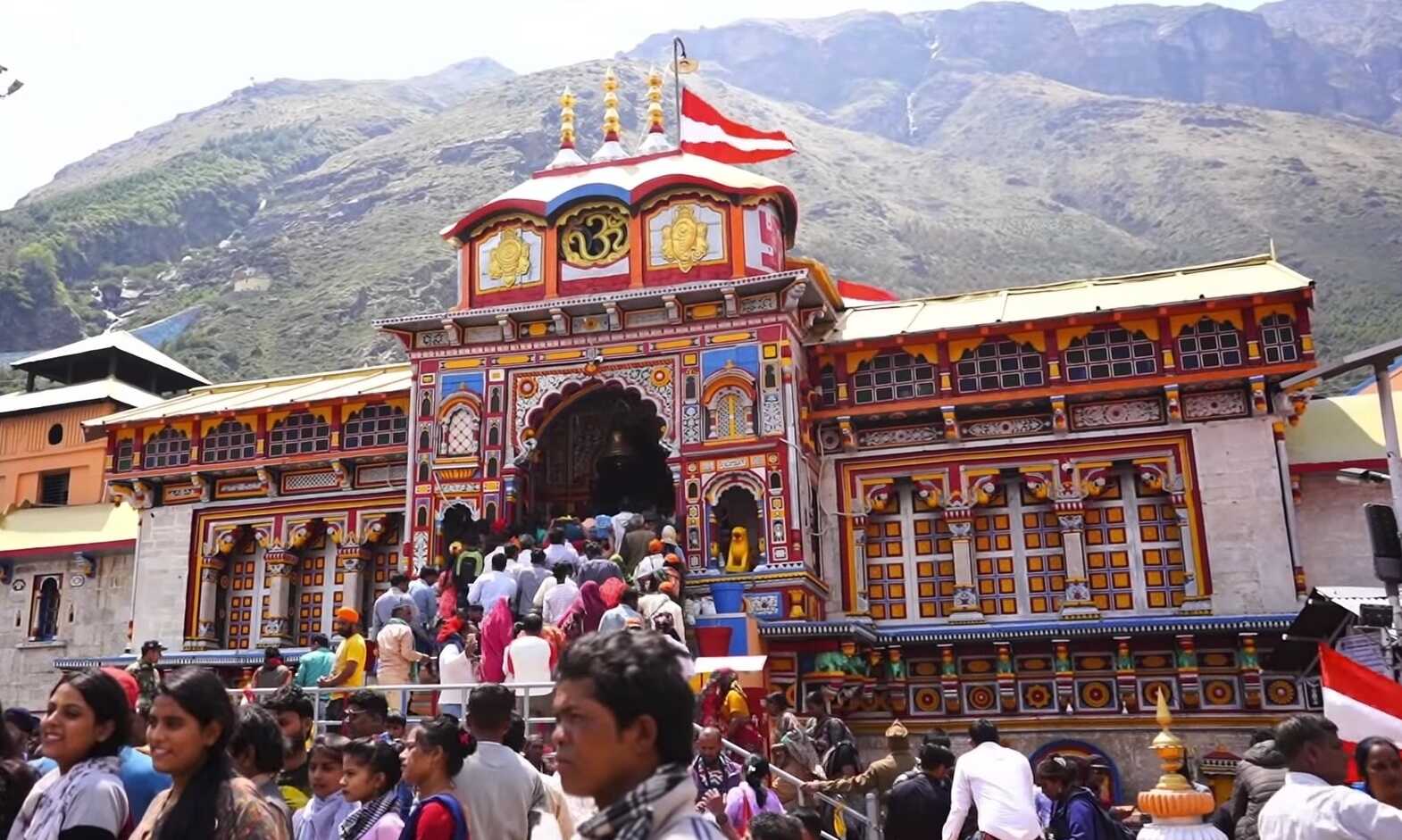 Here we have compiled all the routes and distance information on how to reach Badrinath in the best possible way. Suppose you are planning your trip from any major city like Delhi, Mumbai, Chennai, Kolkata, or Banglore. Then it's very important to know the distance and best possible routes for your Badrinath Trip. It does not matter whether you are traveling to Badrinath by train, air, or by road, Haridwar and Rishikesh are the main points from where you have to start your journey to the hilly area.
Badrinath Yatra 2023 Route Maps & Distance
If you want to reach Badri Nath Temple from any part of India. Then Joshimath will be your mean destination to reach Badri Nath.
Your City 
➜
 Haridwar or Rishikesh 
➜
 Devprayag 
➜
 Srinagar 
➜
 Rudraprayag 
➜
Karanprayag ➜ Gopeshwar ➜ Joshimath ➜ Badri nath Joshimath is accessible from major destinations of Uttarakhand. Here we are sharing a detailed Route Map & Distance Guide on how to reach Badri Nath from major cities in India.
Badrinath Temple Distance from Major Cities
Note: This distance is directly from the Badri Nath Temple in Chamoli, Uttarakhand.
Click on Any Route below
and you will redirect to a distance Guide on that Route.
Best Time To Visit Badrinath Yatra 2023
The doors (Kapat) of the Badri Nath Temple (Mandir) open to devotees in the month of April-May every year. And close around the last week of November on the occasion of Vijay Dashmi ( Dusshera). This time period is called Char Dham Yatra Season.

 

And during the Char Dham Yatra season, you can also visit Badri Nath Temple, Gangotri Temple, and Yamunotri Temple. The weather and climate during the yatra season are very pleasant and the temperature remains below 20 degrees Celcius.
Badrinath Weather Today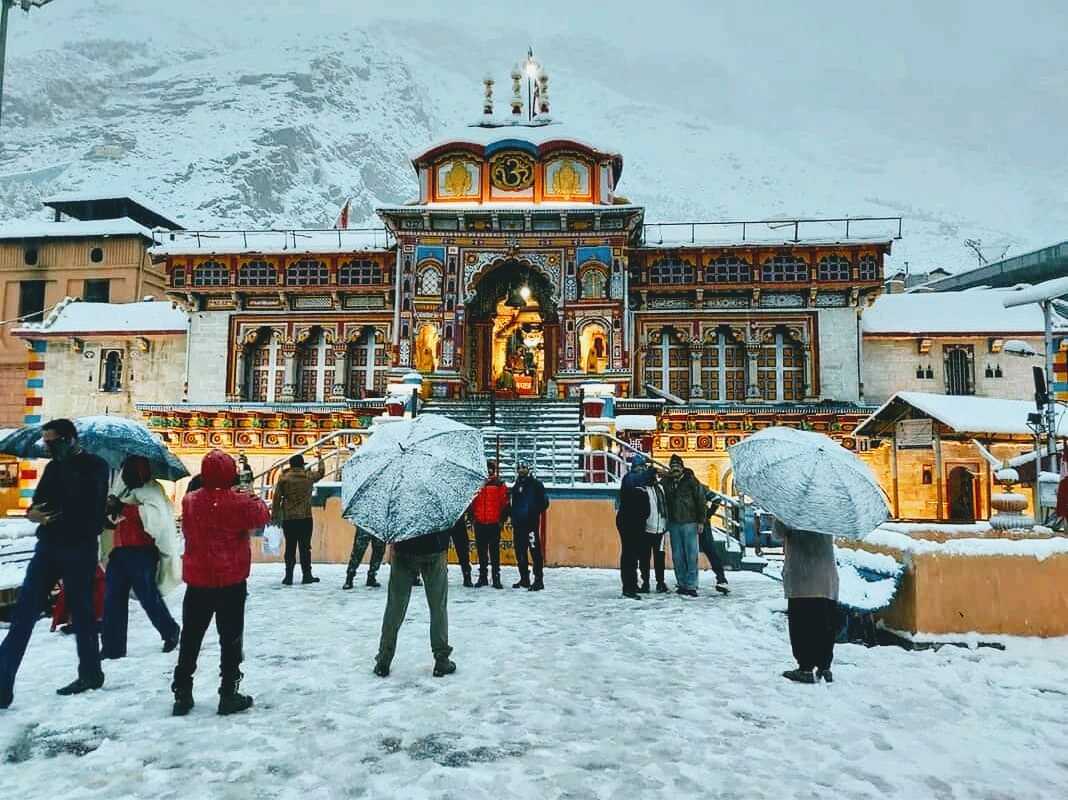 Temples of the Char Dham Yatra are located at high elevations in Uttarakhand. And hence, it is normally cold weather in Badrinath in winter.
Badrinath Weather This Month
Badrinath Temperature Report for the Year 2023 – Weather Forecast
Badrinath Temprature Today
The temperature in Badrinath right now and 7 Days Weather Forecast.
BADRINATH WEATHER
Moreover, Kapaat (doors) of the temples close during the winter season. Thus, the Char Dham yatra is carried out mostly during the summer months.
From April to June when the weather is favorable for steep climbing and sightseeing tours.
And also sometimes from late Sep to Nov, when the monsoon decreases and at the start of the winter season (autumn). This is the best time to visit Badrinath. But as much as possible the rainy season for this Sacred Yatra (Tour) should be avoided. Because the roads and paths (trek) become slippery and there are circumstances of landslides are high.
Places To Visit Near Badrinath Dham
Markandeya Rishi Rock
Maana Village (Last Village of India)
Yog Dhyan-Badri Temple
Vridha-Badri Temple
Adi-Badri Temple
Bhavishya-Badri Temple

Tapt-Kund

Aadikedar

Panch-Shilayen

Brahmkapal

Matamoorti

Bheempul

Charanpadukatirth

Satopanth Lake (Satopanth Glacier, also known as Swargarohini Parvat)

Vasudhara Falls

Ved-Vyasa Gufa
Ganesh Gufa (Lord Ganesha Cave)
Ved-Vyasa Cave
Badrinath is the same area where Ved Vyasa divided the Vedic Samhitas into several sections and sorted each subject by separating the various mantras. The cave of "Ved Vyas Rishi" is located in Badrinath itself. This cave is more than 5000 years old.
This cave is under a huge stone 200 meters above Mana Village. Staying in this cave, Vyas ji composed Asta-das Puranas like Bharat Samhita, Mahabharata, Shrimad Bhagwat, etc. He also composed eighteen Puranas in this cave.
Panch Badri in Badrinath Yatra 2023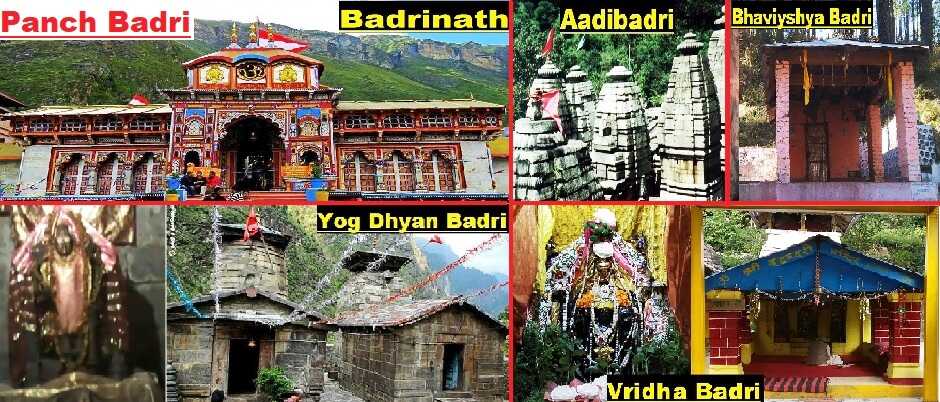 According to the Puranas, Brahma's son Dharma and his wife Murti Devi had traveled to Badrinath in ancient times. Nara and Narayan were the sons of both of them. Nar, and Narayan—both of which are modern names of Himalayan mountains. They chose the place to spread their religion and each of them wed the spacious valleys in the Himalayas. Searching for an ideal place to set up a hermitage, they came across the five Badris of the Pancha Badri, namely as follows;
Vridha Badri,
Yog Bhadri,
Dhyan Badri,
Bhavish Badri, and
Badrinath (Badrikashram)
It takes many days to visit all five shrines of Lord Vishnu. There is a spherical trek which is the only way to visit all Panch Badri temples. And for most of the part, you have to walk from temple to temple. The best way to visit Panch Badri temples is a bus service that leaves Joshimath near Badrinath.
Explore Badrinath
FAQ About Badrinath Yatra 2023
Here are some most frequently asked questions about Badri Nath.
Who built the Badrinath Temple?
According to mythic, it was originally established as a pilgrimage site by Adi guru Shankaracharya in the ninth century to revive the lost prestige of Hinduism.
Shankaracharya excludes the idol of Lord Badrinath from Narad Kund and restored it and established Jyotirmath in the form of Atharvaveda
monastery
. 
In order to protect and propagate Vedic religion, Shankaracharya established his monastery in all four directions of the country near these places of pilgrimage. 
Jaggannathpuri in the east, Dwarkapuri in the west, Rameswaram in the south, and Badrikashram in the north were built under these four dams.
Why the Badrinath Yatra 2023 is Famous?
In India, there are four pilgrimage sites, which are located in all four directions of India. Badrinath is one of these four pilgrimage sites which is situated in the northern direction of India. Badrinath Temple is the only temple that is part of both the Char Dhams of India and the Chota Char Dhams of Uttarakhand. Badrinath is the only temple in India's four pilgrimage sites which is situated in the Himalayan region. And also Badrinath is one of the highest temples of Lord Vishnu which is surrounded by snow and other mountains. It is one of the
108 Divyadesam
dedicated to Vishnu, who is worshipped as Badrinath.
A Divya Desam
is one of the 108 Vishnu temples that are mentioned in the works of the Alvars (saints). "Divya" means "divine" and "Desam" indicates "place of abode" (temple). Badrinath is one of these 108 Divya Desam. Of the 108 Divya Desam, 105 are situated in India, one is situated in Nepal, and the last two are believed to be outside the Earthly realms.
Where is the Badrinath Dham Located?
Badrinath or Badrinarayana Temple is a Hindu Temple dedicated to Lord Vishnu which is located in Garhwal hill tracts along the banks of the Maa Alaknanda River in Chamoli District in Uttarakhand, India. The hill tracts are located 3,133 m (10,279 ft) above sea level. The Nar Parvat (Nar Hill) is located opposite the temple, while the Narayana Parvat (Narayan Hill) is located behind the Neelkanth peak.
What is Badrinath Temple Pooja Timing?
According to the rituals of worship, the doors of the Badrinath temple open at 7 in the morning. First of all, sandalwood paste is removed from the body of Lord Badrinath. After that Lord Badrinath is bathed and again decorated with Sandalwood paste, Clothes, and Ornaments.
After that Lord Badrinath is worshiped and offered to him.
After this, the doors of the temple are closed.
The doors of the temple open again in the evening at 4 o'clock and at 6 o'clock in the evening. And at 9 o'clock in the night, the doors of the temple are closed again.
Why does Badrinath Temple Close Every Year?
Due to the very cold weather, the doors (Kapat) of the Badrinath temple are closed, and everyone from the Badrinath valley migrates downwards.
How old Badrinath Temple is?
Badrinath has been mentioned as a holy place in scriptures and legends for thousands of years. According to the Srimad Bhagavatam, There in Badrikashram the Personality of Godhead (Vishnu), in his incarnation as the sages Nara and Narayana, had been undergoing great penance since time immemorial for the welfare of all living entities. and Badrinath was re-established as a major pilgrimage site by "Adi Guru Shankaracharya" in the ninth century.
Can We Stay Near Badrinath?
Badrinath is a very big town. and everyone can stay near Badri Nath Temple. there are lots of hotels and Dharamhals all around the Badrinath Temple, so you can easily find several hotels and Dharamshalas there according to your budget.
Who destroyed the Badrinath temple?
No one ever Destroyed Badrinath Temple. In History, there are several incidents but they all are natural causes. The Badrinath temple has undergone several major renovations due to its age and damage by an avalanche. In the 17th century, the temple was expanded by the Kings of Garhwal. After significant damage in the great 1803 Himalayan earthquake, it was largely rebuilt by the King of Jaipur.
How Badrinath got its name?
According to Hindu legend, the god Vishnu sat in meditation at this place. During his meditation, Lord Vishnu was unaware of the cold weather. Goddess Lakshmi, his wife, protected him in the form of the Badri tree. Pleased by the devotion of Goddes Lakshmi, God Vishnu named the place Badrika Ashram. Hence Goddess Lakshmi was called the "Badri Vishal" as a large Beri/jujube and Lord Vishnu as the "Badrinath" husband of Badri.
Which is higher Kedarnath or Badrinath?
Kedarnath is Higher than the Badri Nath. Kedarnath shrine is situated in a breathtaking location near the milky white Mandakini River. At the astonishing height of 3,583 (11,755 ft) meters. And The Badri Nath is located 3,133 m (10,279 ft) above sea level.
Who found Badrinath?
According to mythic, it was originally established as a pilgrimage site by Adi guru Shankaracharya in the ninth century to revive the lost prestige of Hinduism.
What comes to first Kedarnath or Badrinath?
Most people start their Kedarnath-Badrinath Journey from Haridwar. Haridwar is the main Railway and Bus station of Uttarakhand. and Haridwar is connected to all major cities of India. so if you reach Haridwar, then Kedarnath will come first.
The distance from Haridwar to Kedarnath is 239 kilometers and the distance from Haridwar to Badrinath is 316 kilometers. But the main difference between these two is they both are situated on Different routes. And the route is divided at Rudraprayag.
From Rudraprayag, the remaining distance for Kedarnath is 76 kilometers and the remaining distance for Badri Nath is 154 kilometers.
How far is Badrinath from Kedarnath?
If you want to visit Badrinath from Kedarnath the total distance from Kedarnath Temple to Badrinath Temple is 243 km. It includes a 21 km walking track from Kedarnath to Gaurikund and a 222 km Road track from Sonprayag to Badrinath.
Where is Kedarnath Badrinath?
Kedarnath and Badrinath are situated in Uttarakhand. Kedarnath is situated in the Rudraprayag district of Uttarakhand and Badrinath is situated in the Chamoli district of Uttarakhand.