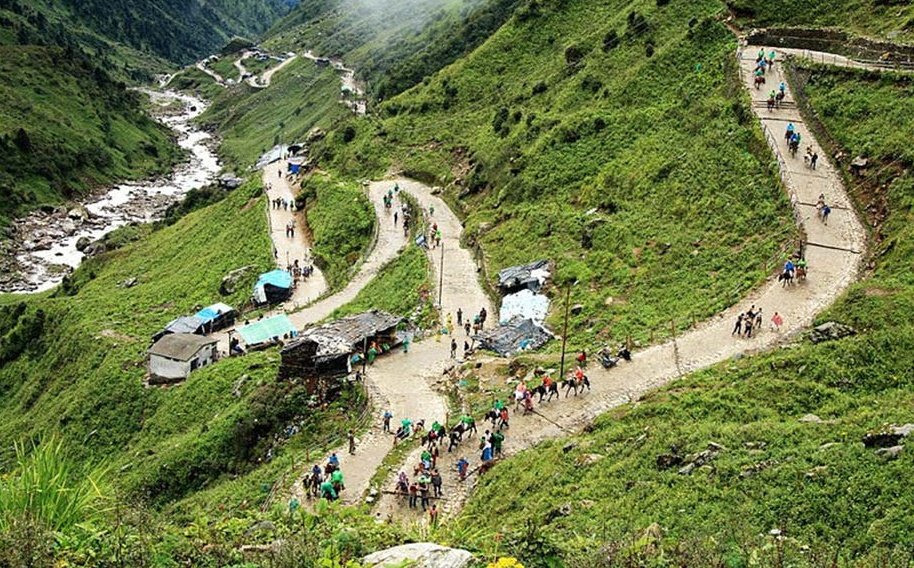 The Kedarnath trek is one of the most challenging and difficult treks in India. But it got easier when pilgrims chant the name of Kedar Baba (Lord Shiva). Here in this article, we have shared a complete travel guide for the trekking tour at Kedarnath Temple.
About Kedarnath Trek
Kedarnath Trek is a popular pilgrimage and trekking destination in the Indian state of Uttarakhand. The trek leads to the Kedarnath temple, one of the four major shrines in Hinduism, located at an altitude of 3,583 meters (11,755 feet) above sea level.
The trek to Kedarnath starts from a place called Gaurikund, which is located at a distance of 16 km from Kedar Nath Temple. The trek takes you through some beautiful and scenic landscapes, including lush green forests, waterfalls, and streams.
The route is steep and challenging in some places, but the stunning views of the Himalayan peaks make it all worth it.
Best Time To Visit Kedarnath Trek
The best time to undertake the Kedarnath trek is from May to June and from September to November, as the weather during these months is mild and pleasant.
During the monsoon season, which is from July to August, the trek can be risky due to the possibility of landslides and flooding.
The Kedarnath trek is considered a holy pilgrimage by Hindus, and thousands of devotees undertake this trek every year to seek the blessings of Lord Shiva.
However, it is also a popular trekking destination for adventure enthusiasts and nature lovers who want to experience the beauty of the Himalayas up close.
Best Time for Char Dham Visit
Kedarnath Trek Distance and Time
The distance of the Kedarnath Trek is around 16 km (one way) from Gaurikund to Kedarnath Temple.
The trek can be completed in a minimum of 2 days, with a one-night halt at Kedarnath, or it can be completed in a single day by experienced trekkers.
The trek from Gaurikund to Kedarnath takes around 6-7 hours to complete, depending on the fitness level of the trekker.
On the first day, trekkers usually cover a distance of around 7-8 km from Gaurikund to Kedarnath. The trek route passes through scenic locations like Jangal Chatti, Bheembali, Rambara, Lincholi, and Chhani Camp which are popular camping sites, and there is a hot water spring also.
On the second day, trekkers can explore the Kedarnath temple and surrounding areas and start the return journey to Gaurikund. The return journey takes around 5-6 hours to complete and covers a distance of around 9 km.
Can I Complete Kedarnath Trekking Non-stop?
Yes, Most of the young people complete the Kedarnath trek in one go. and Stay at Kedarnath Temple at the night and then return the next day.
A young person with a good fitness level can complete this 16km trek in

6-7 hours

(non-stop) while going upside to the temple. (Upward direction)
Returning time for the same distance will be around

5 hours

. (Down direction)
Up-Down Daily Timings by the Temple Authority
Last Timing

 for Upcoming Visitors – 5 Pm (Evening)

Last Timing

for Downgoing Visitors – 6:30 PM (Evening)
It is important to note that the duration of the trek may vary depending on the fitness level of the trekker and the weather conditions.
It is always advisable to undertake the trek under the guidance of an experienced trekking guide and to carry essential gear and supplies for the trek.
Don't forget to check out this Best-selling TREKKING Bag on Amazon
7358 Ratings with ★★★★ (4.4+ Customer Review)
Kedarnath Trek Route Map (New)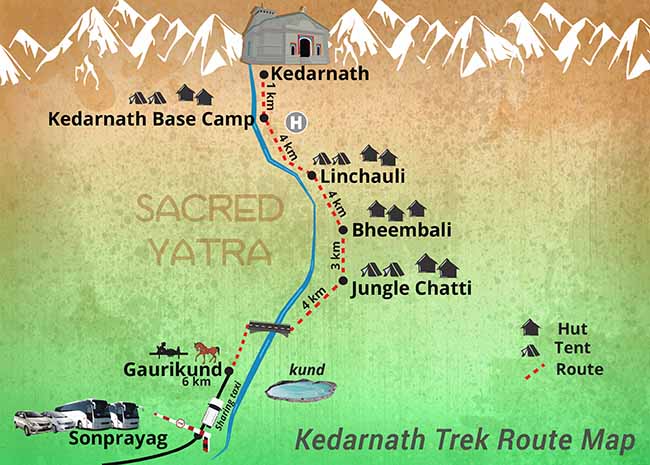 There are mainly 10 Checkpoints in the route of the Kedarnath Trek. These checkpoints are shown below in the order they come during the 16km trekking.
Gaurikund (गौरीकुंड)
Jangal Chatti (जंगल चट्टी)
Bheembali (भीमबली)
Rambara (रामबाड़ा)
Chhota Lincholi (छोटी लिंचोली)
Lincholi (लिंचोली)
Chhani Camp (छानी कैंप)
Rudra Point (रूद्र पॉइंट)
Base Camp (बेस कैंप)
Kedarnath Temple (केदारनाथ मंदिर)
Kedarnath Trek Route Length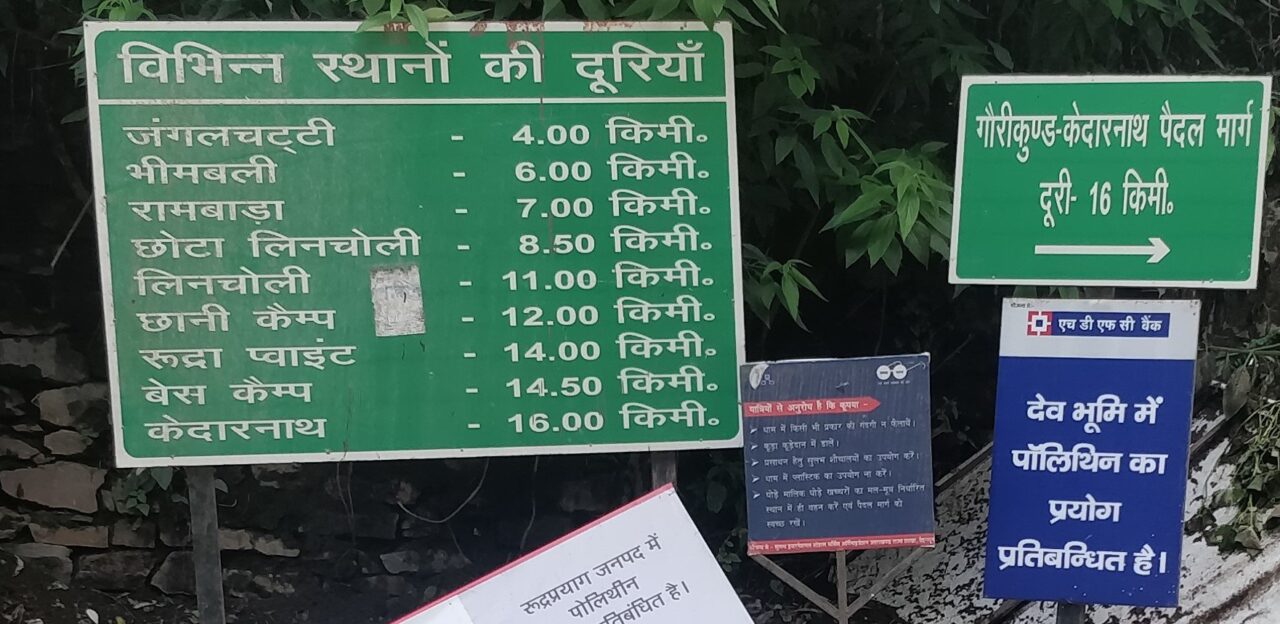 Gaurikund To Jangle Chatti/Bhairon Chatti distance is 4 km.
Jangle/Bhairon Chatti To Bheembali distance is 3 km.
Bheembali To Linchauli  distance is 4 km.
Linchauli To K. Base Camp distance is 4 km.
K. Base Camp To Kedarnath Temple distance is 1 km.
Char Dham Distance from Delhi
Gaurikund to Kedarnath Trek
Gaurikund is a Hindu pilgrimage site and base camp for trek to Kedarnath Temple. It is situated at an altitude of 6502 feet above mean sea level in the Garhwal Himalayas in the Rudraprayag district of Uttarakhand.
There are various options available at the starting point (Gaurikund) of the Kedarnath Trek. To complete the trek route, you have three options there.
by Walking (Trekking)
by Ponies
by Palkies
Read More: Gaurikund to Kedarnath Guide
Explore Kedarnath
FAQ
Here are the most Frequently Asked Questions about Kedarnath Trek.
How long is Kedarnath Trek?
The length of the Kedarnath Trekking route is around 16-18 kilometers from Gaurikund to Kedarnath temple.
How much time does it take for Kedarnath Trek?
The Kedarnath Trekking usually takes 2 days to complete (If stops midway for rest). And for a young fit person, it takes 6-7 hours to reach the Kedarnath temple. (nonstop)
From Where Does Kedarnath Trek Start?
The Kedarnath Trekking route starts from Gaurikund.
How difficult is Kedarnath Trek?
The Kedarnath Trekking is considered a moderate to difficult level.
How many km is Trek to Kedarnath?
The trekking route to Kedarnath is around 16 kilometers one way.
How to prepare for Kedarnath Trek?
To prepare for the Trek, one should focus on physical fitness, pack appropriate clothing and gear, carry essential items like water and food, and acclimatize to the high altitude.
Don't forget to check out this Best-selling TREKKING Bag on Amazon
7358 Ratings with ★★★★ (4.4+ Customer Review)
What to wear in Kedarnath Trek?
For Trekking at Kedarnath, it is recommended to wear comfortable trekking shoes, quick-drying pants and t-shirts, a warm jacket, a hat, sunglasses, and sunscreen. It is also important to carry rain gear and warm clothes for the night as the temperature can drop significantly.
Which trek is more difficult Kedarnath or Amarnath?
Kedarnath and Amarnath's treks are both considered challenging, but the Kedarnath trekking is comparatively easier than the Amarnath. (due to the difference in the distance)
How steep is Kedarnath Trek?
The Kedarnath Trek is considered a moderate to difficult level, with several steep ascents and descents along the route.
The trekking route involves walking uphill for a significant portion of the journey, with an altitude gain of around 3,550 feet (1,082 meters) from Gaurikund to Kedarnath.
The terrain can be rocky and uneven at times, and there are several sections of the trail that require careful footing and a good level of fitness. The steepness of the trek can vary depending on the specific route taken and the individual's level of physical fitness.
Overall, the Kedar Trek is a challenging but rewarding experience, with stunning views of the Himalayan mountain range and opportunities to explore the region's natural beauty and cultural heritage. It is important to prepare properly and take necessary precautions to ensure a safe and enjoyable trekking experience.
Things to carry for Kedarnath Trek?
Some of the essential things to carry for the Kedarnath Trekking are comfortable trekking shoes, warm clothes, rain gear, sunscreen, sunglasses, a hat, a first aid kit, sufficient water and snacks, and a backpack to carry all the gear. It is also recommended to carry a trekking pole and a camera to capture the beautiful views.
Here is a list of things to carry for the Kedarnath Trekking:
Clothing:

Carry warm clothing such as thermals, fleece jackets, and windcheaters. It can get chilly at night, so bring a warm hat and gloves as well. Wear quick-dry, breathable clothes that are comfortable to trek in. Also, carry an extra set of clothes for emergencies.

Footwear:

As discussed earlier, wear comfortable and sturdy hiking boots or shoes with good grip and ankle support.

Backpack:

A good quality backpack with a capacity of around 40-50 liters is recommended to carry your essentials. It should have padded straps and a waist belt for better support.

Sleeping Bag:

Carry a good quality sleeping bag that is rated for the appropriate temperature range.

Trekking Poles:

Trekking poles help provide extra support and balance on uneven terrain. They are particularly useful when ascending or descending steep slopes.

Water Bottles

: Carry at least 2-3 liters of water, and ensure drink enough water throughout the trek.

First Aid Kit

: Carry a well-equipped first aid kit with essential medicines, band-aids, antiseptics, pain relievers, and any prescription medication you may require.

Sunscreen, Sunglasses, and Hat

: Protect yourself from the harsh sun by carrying sunscreen with SPF 50+, sunglasses with UV protection, and a hat.

Personal Toiletries

: Carry a small towel, hand sanitizer, wet wipes, toilet paper, and any personal toiletries you may require.

Power bank and Extra Batteries

: Carry a good quality flashlight or headlamp with extra batteries for use during early morning starts, late evening walks, or in case of power outages.
Remember to pack light and carry only essentials for the trek. Avoid carrying unnecessary items that add weight to your backpack.
Kedarnath Trek Itinerary?
Here's a brief itinerary for the Kedarnath Trek:
Day 1: Reach Gaurikund and hike to Kedarnath (16-18 km)
Day 2: Explore Kedarnath and acclimatize to the high altitude
Day 3: Trek back to Gaurikund (16-18 km)
Note: The duration of the trek can be extended depending on the fitness level of the trekker and weather conditions.
Best shoes for Kedarnath Trek?
The best shoes for Kedarnath Trekking are comfortable and sturdy trekking shoes with good grip, ankle support, and waterproofing to tackle the steep and rocky terrain.
Some good options for shoes for the Kedarnath Trek include hiking boots or shoes from well-known brands such as Salomon, Merrell, or The North Face. It is important to break in your shoes before the trek and wear them around for a few weeks to ensure that they are comfortable and fit well.
Can we trek Kedarnath at night?
Trekking to Kedarnath at the night is generally not recommended as it can be quite risky and dangerous. The trek is quite challenging, and even during the day, it requires a good level of fitness and stamina.
Trekking at night can be more challenging due to low visibility and increased chances of slipping, tripping, or losing the trail.
Moreover, the trail to Kedarnath is located in a remote mountainous region with steep inclines, rocky terrain, and unpredictable weather conditions. It can be risky to trek in the dark without proper lighting, equipment, and a guide. There have been cases of trekkers getting lost or injured during night treks to Kedarnath.
Therefore, it is advisable to trek to Kedarnath during the daytime when the weather and visibility are better, and there is more help available in case of emergencies.
If you do plan to trek at night, it is essential to prepare adequately, carry appropriate gear, and seek the advice of experienced guides or local authorities.