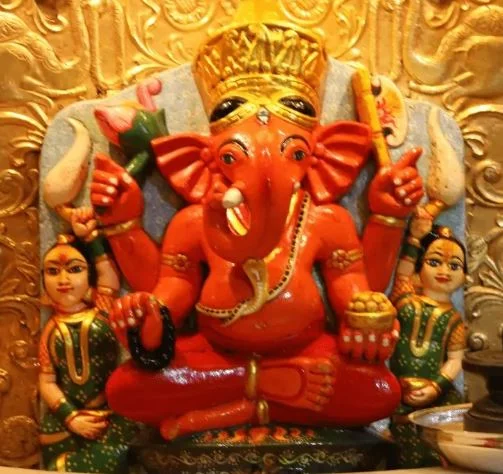 Shree Siddhivinayak Temple is a famous Hindu temple dedicated to Lord Ganesha, located in Mumbai, Maharashtra. Here are 20 Facts About Siddhivinayak Temple.
Siddhivinayak Temple is one of the most revered and visited temples in Mumbai city. The temple is known for its beautiful idol of Lord Ganesha, carved out of a single black stone.
The deity is also known as "Siddhivinayak," which means "the Lord who grants wishes and fulfills desires." Devotees from all walks of life visit the temple to seek blessings, offer prayers, and seek success and prosperity.
Facts About Siddhivinayak Temple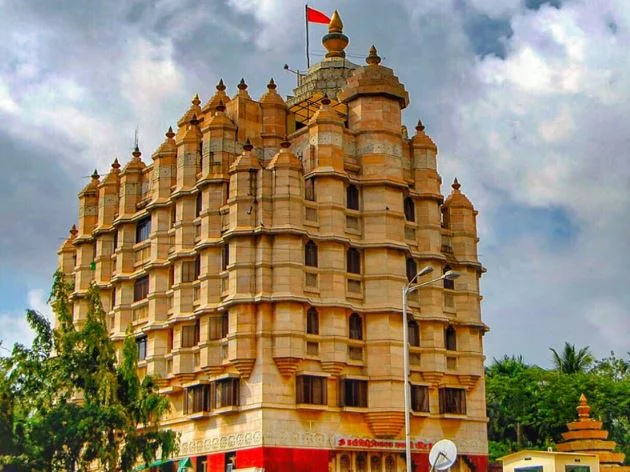 Here are 20 interesting facts about Siddhivinayak Temple.
1. Historical Facts About Siddhivinayak Temple
Siddhivinayak Temple is a renowned Hindu temple dedicated to Lord Ganesha, located in Prabhadevi, Mumbai, Maharashtra.
It is one of the most visited and revered temples in Mumbai and holds great religious significance.
The temple was built in the 18th century by a wealthy merchant named Laxman Vithu and his wife, Dubai Patil.
It is believed that the idol of Lord Ganesha at Siddhivinayak Temple is self-manifested (Swayambhu).
The temple attracts a large number of devotees who come to seek the blessings of Lord Ganesha.
2. Architectural Facts About Siddhivinayak Temple
Siddhivinayak Temple showcases beautiful Hindu temple architecture, with the main sanctum adorned with a golden dome.
The idol of Lord Ganesha is made of black stone and is two and a half feet tall, with the trunk turned towards the right.
The temple complex also includes other smaller shrines dedicated to various Hindu deities.
The walls of the temple are adorned with paintings depicting various scenes from Hindu mythology.
The architecture of the temple reflects a blend of traditional and modern styles, with intricate carvings and embellishments.
The temple's architecture and design create a serene and spiritual atmosphere for devotees.
3. Divine Blessings
Devotees believe that offering prayers and seeking the blessings of Lord Ganesha at Siddhivinayak Temple can fulfill their wishes and bring prosperity and success.
The temple is particularly known for granting "Siddhi" (divine blessings) to its devotees.
It is believed that Lord Ganesha at Siddhivinayak Temple has the power to remove obstacles and bestow wisdom and knowledge.
Devotees often offer coconuts, flowers, sweets, and other items as offerings to seek the blessings of Lord Ganesha.
The temple's serene ambiance and spiritual vibrations create a conducive environment for devotees to connect with the divine.
4. Festivals Facts About Siddhivinayak Temple
Siddhivinayak Temple celebrates various Hindu festivals with great enthusiasm and devotion.
Ganesh Chaturthi, the birth anniversary of Lord Ganesha, is the most significant festival celebrated at the temple.
During Ganesh Chaturthi, the temple witnesses a huge influx of devotees, and the idol of Lord Ganesha is adorned with elaborate decorations.
Other festivals celebrated at the temple include Diwali, Navaratri, and Sankashti Chaturthi, which is dedicated to Lord Ganesha.
The festive atmosphere during these celebrations adds to the spiritual fervor of the temple.
5. Prasadam
Siddhivinayak Temple is known for its special Prasadam (sacred food) called "Modak."
Modak is a sweet dumpling that is considered Lord Ganesha's favorite food.
Devotees receive Modak as Prasadam after offering their prayers to Lord Ganesha.
The Prasadam is believed to carry the blessings of Lord Ganesha and is considered auspicious.
Many devotees consider receiving and consuming the Modak Prasadam as a divine experience.
6. Donations and Philanthropy
Siddhivinayak Temple receives a significant amount of donations from devotees, which is utilized for various philanthropic activities.
The temple has undertaken numerous social welfare initiatives, including educational programs, healthcare facilities, and community development projects.
The donations also contribute to the maintenance and improvement of the temple infrastructure.
The temple management is actively involved in charitable endeavors to uplift the underprivileged sections of society.
The philanthropic efforts associated with Siddhivinayak Temple have made it a symbol of social responsibility.
7. Celebrity Visits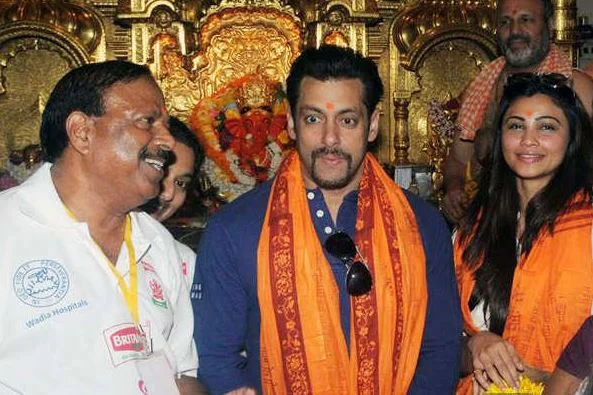 Siddhivinayak Temple is frequented by celebrities from the Indian film industry and other prominent personalities.
Many celebrities visit the temple to seek blessings and offer their prayers before the release of their movies or during important events in their lives.
The temple's spiritual ambiance and divine aura make it a popular choice for celebrities to connect with their faith.
The temple's administration ensures a hassle-free experience for the visiting celebrities while maintaining the sanctity of the place.
Celebrity visits to Siddhivinayak Temple often attract media attention and create a sense of excitement among devotees.
8. Siddhivinayak Trust 
The management and administration of Siddhivinayak Temple are handled by the Siddhivinayak Temple Trust.
The trust ensures the smooth functioning of the temple and oversees the various activities and initiatives undertaken by the temple.
The trust plays a crucial role in maintaining the temple's traditions, upholding religious practices, and preserving the temple's heritage.
It also manages the financial affairs, donations, and allocations for various philanthropic projects.
The Siddhivinayak Trust's dedication and efficient management have contributed to the temple's reputation and popularity.
9. Where is Siddhivinayak Temple Located?
Siddhivinayak Temple is strategically located in Prabhadevi, a central neighborhood in Mumbai, making it easily accessible to devotees.
The temple is well-connected by road, rail, and other modes of transportation.
Several bus routes and local train stations are located in close proximity to the temple, facilitating convenient travel for devotees.
The temple's central location also makes it a popular tourist attraction for both locals and visitors from other parts of India and abroad.
The temple attracts a large number of devotees, especially on Tuesdays, which is considered an auspicious day dedicated to Lord Ganesha.
Despite the large number of visitors, the temple management ensures smooth movement and devotee-friendly arrangements.
10. Security and Crowd Management
Due to its popularity, Siddhivinayak Temple witnesses a significant influx of devotees, especially during festivals and auspicious days.
The temple management maintains strict security measures to ensure the safety and well-being of devotees.
Trained security personnel are deployed throughout the temple complex to manage the crowd and maintain order.
Separate queues and entry points are organized to streamline the flow of devotees and avoid congestion.
The temple authorities collaborate with local authorities to ensure a safe and secure environment for all visitors.
11. Online Darshan
Siddhivinayak Temple offers an online darshan facility for devotees who are unable to visit the temple in person.
Through the temple's official website, devotees can virtually experience the darshan of Lord Ganesha and offer their prayers from anywhere in the world.
The online darshan feature allows devotees to have a glimpse of the temple and seek the blessings of Lord Ganesha remotely.
This facility has been especially helpful during times of restricted travel or when devotees are unable to visit the temple due to various reasons.
12. Guinness World Record
Siddhivinayak Temple holds a Guinness World Record for performing the maximum number of blood donation camps organized by a temple.
The temple has been actively involved in promoting blood donation drives to support healthcare initiatives and help those in need.
The record highlights the temple's commitment to social welfare and its efforts to save lives through blood donation.
13. Artistic Facts About Siddhivinayak Temple
The interior of Siddhivinayak Temple is adorned with intricate artwork and murals that depict various mythological stories and episodes related to Lord Ganesha.
Skilled artisans have beautifully crafted these artistic representations, showcasing their talent and creativity.
The artwork adds to the aesthetic appeal of the temple and creates a visually captivating experience for devotees.
14. Prayer Services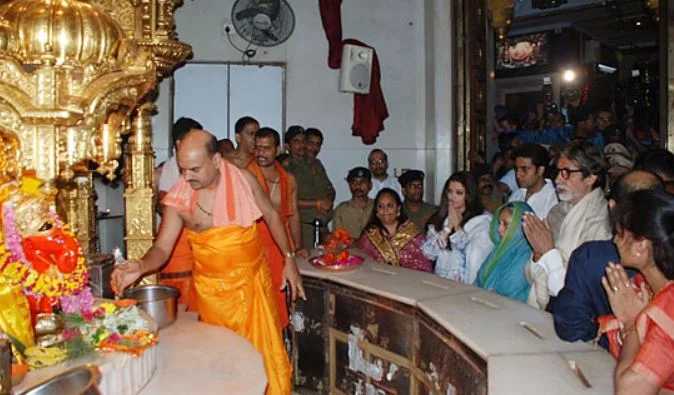 Apart from regular darshan, Siddhivinayak Temple offers additional prayer services to devotees.
Special prayers and pujas can be arranged for individuals or groups upon request.
These personalized prayer services allow devotees to seek specific blessings or perform rituals as per their requirements.
The temple priests conduct the prayers and guide devotees through the process, ensuring a meaningful and spiritual experience.
15. Temple Renovation
Siddhivinayak Temple underwent a major renovation in 2009 to enhance its infrastructure and facilities.
The renovation project aimed to improve the temple's structural stability, enhance visitor amenities, and upgrade the overall experience for devotees.
The renovation also included the addition of a spacious waiting area and better crowd management systems.
The modernization efforts have helped accommodate the growing number of devotees and provide a more comfortable environment.
16. Environmental Initiatives
Siddhivinayak Temple has taken several eco-friendly initiatives to promote environmental sustainability.
The temple has implemented measures such as rainwater harvesting, waste management systems, and energy-efficient practices.
These initiatives contribute to reducing the temple's carbon footprint and creating awareness about environmental conservation among devotees.
17. Charitable Hospital
The Siddhivinayak Temple Trust runs a charitable hospital called "Shri Siddhivinayak Ganapati Cancer Hospital."
The hospital specializes in providing cancer care and treatment to underprivileged patients.
It offers various medical services, including diagnosis, chemotherapy, radiation therapy, and supportive care.
The hospital's mission is to provide affordable and quality healthcare to those battling cancer, irrespective of their financial background.
18. Cultural Facts About Siddhivinayak Temple
Siddhivinayak Temple organizes cultural programs and events to promote Indian art, music, and culture.
Various classical music and dance performances are held within the temple premises, showcasing the rich heritage of India.
These cultural programs add a vibrant touch to the temple's ambiance and provide a platform for artists to showcase their talent.
19. Community Kitchen
The temple operates a community kitchen where free meals, known as "Prasad Bhojan," are served to devotees.
Devotees can partake in the community kitchen and have a simple vegetarian meal as a part of their visit to the temple.
The community kitchen ensures that no one goes hungry and reflects the temple's commitment to serving the community.
20. Devotee Services
Siddhivinayak Temple provides various services to facilitate devotees' visits and make their experience more comfortable.
These services include cloakrooms, shoe storage facilities, drinking water arrangements, and clean restroom facilities.
The temple management focuses on providing a clean and hygienic environment for devotees to worship and seek blessings.
Related Posts