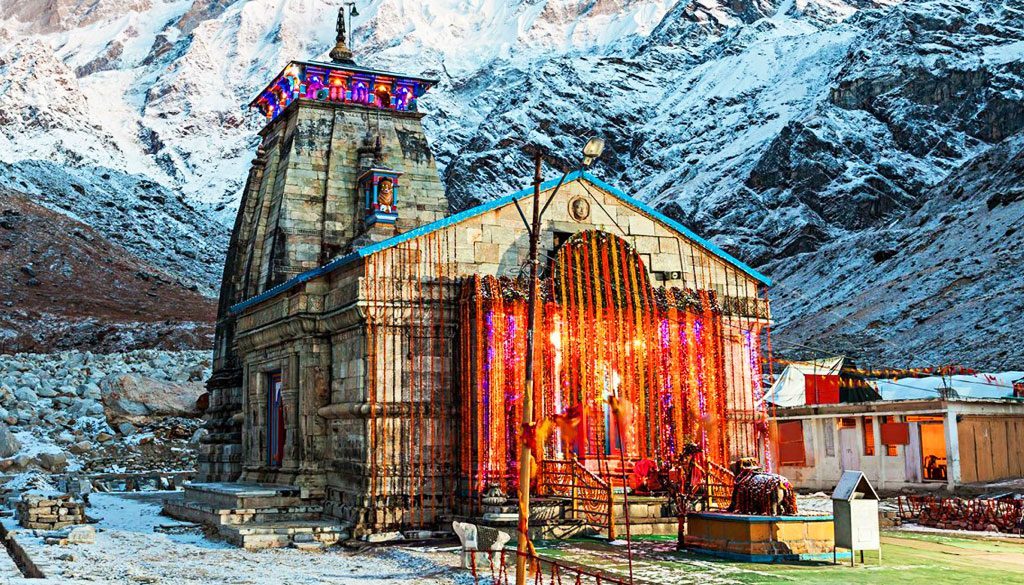 Kedarnath Yatra 2020 is done to visit Kedarnath temple which is one of the 12 Jyotirlingas located in the Rudraprayag district of Uttarakhand. It is also the most renowned temple among the Panch Kedar. Panch Kedar is a group of 5 Shiva temples in Garhwal Himalayas. These temples' names are Kedarnath, Tungnath, Madhyamaheswar, Rudranath, and Kalpeswar. The Kedarnath Dham is also part of the Char Dham Yatra 2020.
Kedarnath shrine is situated in a breathtaking location near the milky white Mandakini River. At the astonishing height of 3,583 meters.
In this article, we have compiled all the important information about Kedarnath Yatra 2020. And we can say that this is your Online Travel Guide for your Kedarnath Trip.
About Kedarnath Yatra 2020
Deity: Kedarnath, Lord of Kedar Khand (Shiva)
District: Rudraprayag
State: Uttarakhand (India)
Elevation / Height: 3,583m (11,755 ft)
Visitors / Year: 10 Lakh visitors in 2019
More than 7 Lakh people visited Kedarnath in just the first 45 days of Char Dham Yatra in 2019.
Kedarnath is one of the significant temples of the sacred Chota Char Dham Yatra. This Yatra Consist of four temples of Uttarakhand. These are Kedarnath, Badrinath, Gangotri, and Yamunotri.
Kedarnath Yatra Opening Date in 2020
Kedarnath Temple's opening date depends on the auspicious day of Akshay Tritya and declared on the Maha Shivaratri every year.
The date of opening of the Kedarnath shrine is decided by priests of Omkareshwar Temple located in Ukhimath after the calculation of Hindu Panchang.
And the closing date of Kedarnath is fixed and on the day Bhai Dooj after the Diwali festival around November.
The expected opening and closing dates of the Kedarnath Temple are:
| | |
| --- | --- |
| Opening Date | 28 April 2020 |
| Closing Date | 16 Nov 2020 (Eve of Bhaiya Dooj) |
Check Registration, Pooja Timings Details Here
Kedarnath Temple History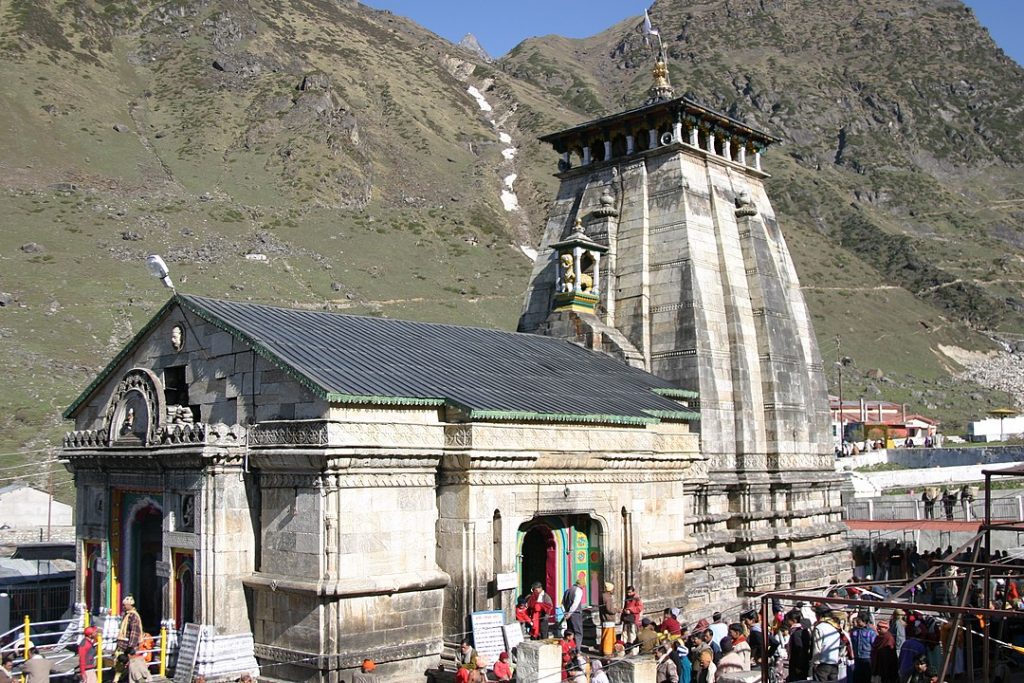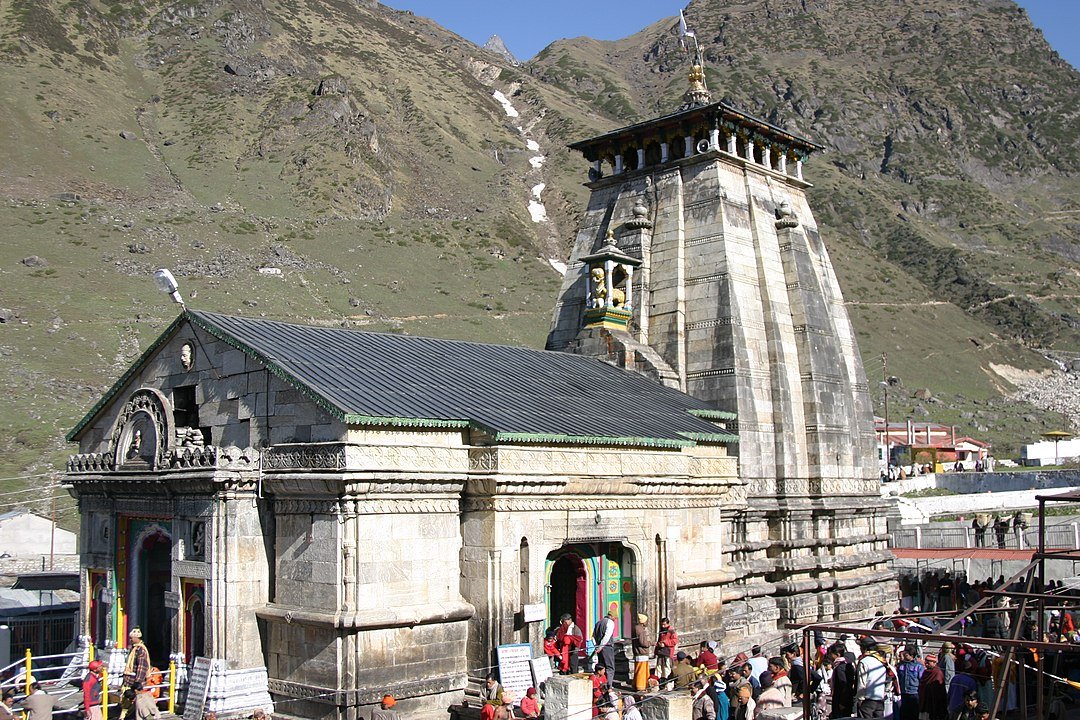 There are so many stories and legends about Kedarnath Temple and it has been a pilgrimage center since ancient times.
Although, it is not confirmed who built the original Kedarnath Mandir and when.
But a mythological story describes the temple's construction to the legendary brothers Pandavas. But the holy Mahabharata does not mention any place called Kedarnath.
Pandavas Story About Kedarnath (Read Here)
The holy Kedarnath temple is said to have been built in 8th century AD by Hindu guru Adi Sankaracharya.
Sankaracharya rebuilt the place where the Pandavas of the Mahabharat fame are believed to constructed a shiv temple.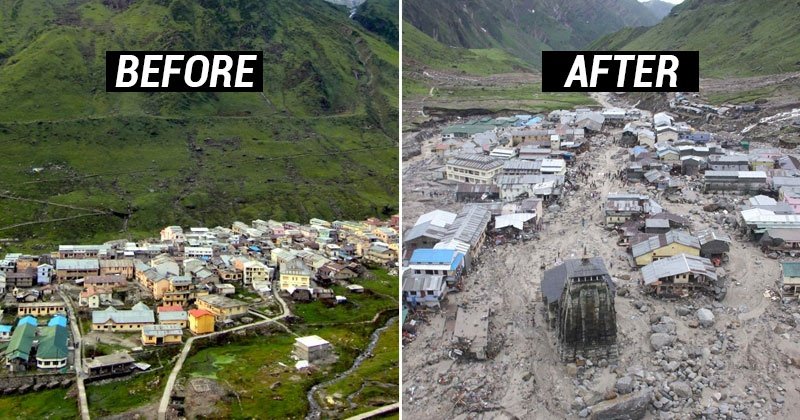 Kedarnath town was the most affected area during the 2013 flash floods in North India. Uttarakhand is the most disaster-prone state of India. And The Kedarnath Temple complex, surrounding areas in Rudraprayag, and Kedarnath town suffered vast damage.
But the temple structure did not suffer any "major" damage. Apart from a few cracks on one side of the four walls which was caused by the flowing debris from the higher mountains.
During the disaster a huge rock among the flood, mud, debris worked as a barrier. And it protected the temple from the extensive damage.
The surroundings of the Kedarnath Temple for example – buildings, hotels, and market areas were vanished away in the flood and damaged heavily.
How To Reach Kedarnath Temple
Here we have compiled all the routes and distance information on how to reach Kedarnath in the best possible way.
Suppose if you are planning your trip from any major cities like Delhi, Mumbai, Chennai, Kolkata or Banglore.
Then it's very important to know the distance and best possible routes for your Kedarnath Trip.
It does not matter whether you are traveling Kedarnath by train, air or by road, Haridwar and Rishikesh are the main points from where you have to start your journey to the hilly area.
Kedarnath Yatra Route Maps & Distance Guide
If you want to reach Kedarnath Temple from any part of India. Then Gaurikund will be your last destination by road.
Your City ➜ Haridwar or Rishikesh ➜ Devprayag ➜ Srinagar ➜ Rudraprayag ➜ Sonprayag ➜ Gaurikund and then finally 16 km Trek to Kedarnath Temple.
Gaurikund is accessible from major destinations of Uttarakhand. After that Kedarnath temple can be reached by a 16 km trek from Gaurikund.
Here we are sharing a detailed Route Map & Distance Guide on how to reach Kedarnath from major cities of India.
Click on Any Route below and you will redirect to a detailed Guide on that Route.
⦿ Dehradun To Kedarnath (266km)
⦿ Haridwar To Kedarnath (252km)
⦿ Rishikesh To Kedarnath (227km)
⦿ Mumbai To Kedarnath (1912km)
⦿ Chandigarh To Kedarnath (524km)
⦿ Lucknow To Kedarnath (730km)
⦿ Ahmedabad To Kedarnath (1431km)
⦿ Banglore To Kedarnath (2558km)
⦿ Chennai To Kedarnath (2609km)
⦿ Kolkata To Kedarnath (1699km)
⦿ Hyderabad To Kedarnath (1685km)
Gaurikund To Kedarnath Temple
There are so many transport options from Dehradun or Haridwar or Rishikesh To Gaurikund. And it is also accessible from major destinations of Uttarakhand.
But the roads towards Kedarnath Temple only stretch till Gauri Kund.
Kedarnath Trek Travel Guide (Read Here)
After that, you have to take a 16 km trek towards the sacred shrine Kedarnath Mandir.
Paalkies and Ponies are also easily available here. And if you have a good budget, then you can also hire a helicopter service during the peak season of the Kedarnath Yatra.
Best Time To Visit Kedarnath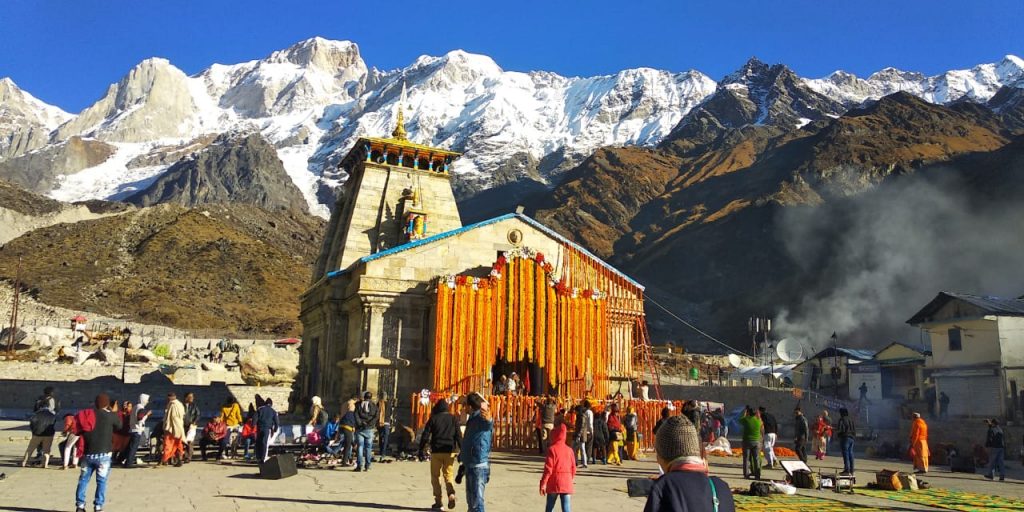 The doors (Kapat) of the Kedarnath Temple (Mandir) open to devotees in the month of April-May every year.
And close around the last week of November on the occasion of Bhai Dooj.
This time period is called Char Dham Yatra Season.
This is the best time to visit Kedarnath Yatra.
And during the Char Dham Yatra season, you can also visit Badrinath Temple, Gangotri Temple, and Yamunotri Temple.
The weather and climate during the yatra season are very pleasant and the temperature remains below 20 degrees Celcius.
Weather in Kedarnath
All the temples of the Char Dham Yatra are located at high elevation in Uttarakhand. And hence, it is normally very cold weather in Kedarnath in winters. Due to most often sub-zero temperatures which make trekking next to impossible.
Moreover, Kapat (doors) of the temples close during the winter season. Thus, the Char Dham yatra is carried out mostly during the summer months. From April to June when the weather is favorable for steep climbing and sightseeing tours.
And also sometimes from late Sep to Nov, when the monsoon decreases and at the start of the winter season (autumn). This is the best time to visit Kedarnath.
But as much as possible the rainy season for this Sacred Yatra (Tour) should be avoided. Because the roads and paths (trek) become slippery and there are circumstances of landslides are high.
Kedarnath Temperature in January
Kedarnath Temperature in February
Kedarnath Temperature in March
Kedarnath Temperature in April
Kedarnath Temperature in August
Kedarnath Temperature in September
Kedarnath Temperature in October
Kedarnath Temperature in November
Kedarnath Temperature in December
Best Hotels Near Kedarnath
Kedarnath Temple is a remote location as compared to other Char Dham Temples in Uttarakhand. That is why there are so many options for accommodation.
From hotels to Govt guest houses like GMVN Tourist Guest House and Tent Camps, there are a variety of facilities to make your tour memorable.
One of the Chota Char Dhams of Uttarakhand, Kedarnath is definitely the most difficult way of austerity selected by pilgrims of all the age groups.
During the months (April to November) when the Kapat (doors) of the temple is open for pilgrims, the 14 Km trek from Gauri Kund to the shrine of Lord Shiva is as crowded as a crossroads on a busy Monday in a city. For the sacred tour, there is a need for temporary residence or accommodation.
These are some of the best-recommended Hotels/Cottage/Rooms in Kedarnath.
Check Hotels Booking Price Here
Helicopter Services in Kedarnath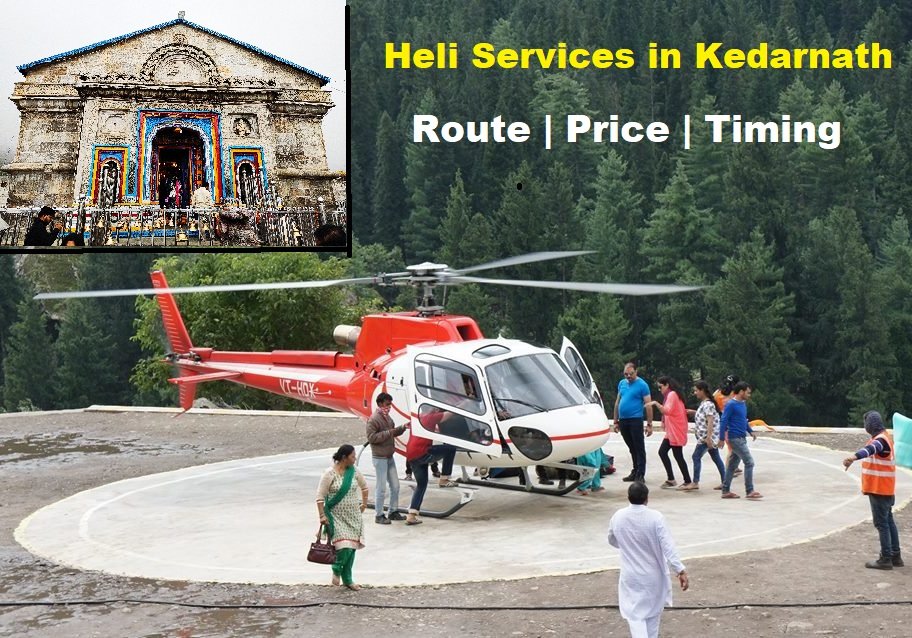 The hard journey becomes much easy because of the daily helicopter service from the helipad in Guptkashi, Phata and Sersi village in Kedarnath.
Some operators also offer a premium helicopter service from Jollygrant airport directly during the peak season of Char Dham Yatra 2020.
Check Helicopter Booking Price Here
Devotees can visit the Kedarnath shrine and also return the same day as the helicopter service flies at regular intervals from Phata and Agustmuni helipads.
5-seater helicopters are operated by different tour companies like Himalayan Heli, Pawanhansh..etc.
There are three main routes available for Heli services in Kedarnath.
Guptkashi, Phata, & Sersi.
You can take your helicopter ride from any of these three places.
Meditation Cave in Kedarnath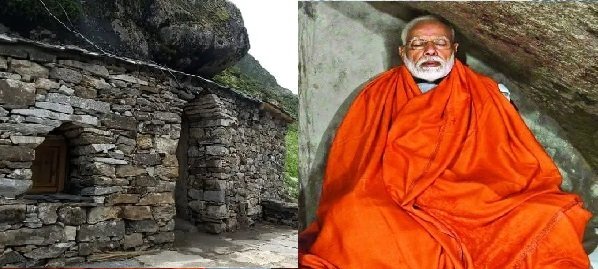 Another name of Kedarnath cave is Rudra Meditation cave. This region maintained and run as a "Modern Meditation Cave" by the Garhwal Mandal Vikas Nigam (GMVN). Kedarnath Cave is located one and a half kilometers left from the Kedarnath Temple complex.
A stay on the cave can only be booked online from the portal of GMVN and fees INR 990 for a day.
Rudra Cave can be reached from Kedarnath following a trek of around a kilometer very easily. The holy town of Kedarnath is well linked to several prominent cities in North India.
About Panch Kedar
Panch Kedar is part of Lord Shiva's body that appeared at five places in the Kedarnath Town. It is said that the Pandavas built temples at each of these 5 places.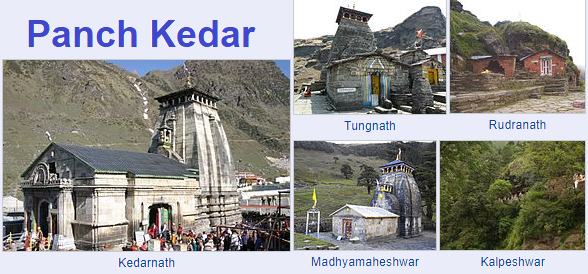 Panch Kedar Temple names are Kedarnath, Tungnath, Rudranath, Madhyamaheswar, and Kalpeswara.
The best way to visit Panch Kedar temples is a bus service that leaves Gaurikund near Kedar Nath. The Timing of this bus, every morning at 5 am and stops at every point for panch Kedar temples.
FAQ
Here are some most frequently asked questions about Kedarnath.
Who built the Kedarnath Temple?
According to Hindu mythology, Kedarnath Mandir was constructed by the legendary brothers Pandava. But the modern structure of Kedarnath Temple is said to have been built in 8th century AD by Hindu Guru Adi Sankaracharya at the same place where the Pandavas are believed to built a shiv temple.
Why the Kedarnath Yatra is Famous?
It is believed that Pandavas went heaven from the path above the Kedarnath, and they built the Shiva Temple in Kedar valley. And Kedarnath temple is located in the highest place among the 12 Jyotirlingas.
Where is the Kedarnath Located?
Kedarnath is a holy Hindu Temple located in Rudraprayag district of Uttarakhand.
Kedarnath Yatra Opening Date in 2020?
The date for the opening of Shri Kedarnath Temple's Kapat is announced by the priests on the auspicious day of Basant Panchmi. This year in 2020, Kedarnath Temple may be open on 28 April 2020.
Kedarnath Temple Closing Date in 2020?
Kedarnath Temple will close on October month 2020, the date is not announced yet.
What is Kedarnath Temple Pooja Timing?
The morning pooja starts from 4:00 and lasts till 7:00. thus after the last Aarti, Kedarnath Temple is closed till the next morning. only between the months of April & November.
Why Kedarnath Temple Closes Every Year?
Due to the very cold weather, the doors (Kapat) of the Kedarnath temple are closed, and everyone from the Kedar valley migrates downwards.
How old Kedarnath Temple is?
The Lord Shiva Temple of Kedarnath is around 3000 years old. As per mythology, the Kedarnath Temple was made by the Pandava brothers. however, the exact date or year of the temple's establishment is not mentioned in pristine literature. But if we look at the scientific evidence, a minimum age of Kedardham about 3,000 years can be considered.
How Kedarnath temple survived the flood?
During the flood in 2013, the temple structure did not suffer any "major" damage, apart from a few cracks on one side of the four walls which was caused by the flowing debris from the higher mountains. During the disaster, a huge rock among the flood worked as a barrier and protected the temple from the extensive damage. The boulder saved the Kedarnath Temple although scientists believed that the structure and construction of the Temple were the reason for not being destroyed.
What is the name of the stone which saved Kedarnath Temple?
The stone which saved Kedarnath Mandir is called Bheem Sheela.
How Far is Kedarnath Temple from the Helipad?
The Kedarnath Helipad is situated about 700 meters away from Kedarnath Temple and can be accessed within a few minutes. Daily helicopter services are available from the helipad in Phata village in Kedarnath. Some operators also offer a helicopter service from the town of Agustmuni in Rudraprayag.
Can We Stay Near Kedarnath?
Yes, everyone can stay near Kedarnath Temple. You can find several hotels and Dharamshalas there according to your budget.
Other Post:
Namo Namo Shankara Lyrics ♪ ♫ Kedarnath Movie Songs in Hindi/English
Mahadev Ji Ki Aarti Songs: Om Jai Shiv Omkara, Har Har Mahadev Lyrics
Facts About Kedarnath: 17 Thing That Will Blow Your Mind 😲